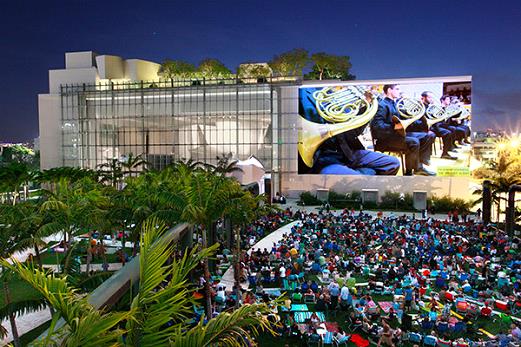 The fabulous Frank Gehry designed New World Centre is not only a huge asset for New World Symphony audio fellows, it is also a world class performance space available for hire. It would be a given that the designer of some of the world best concert halls and a conductor with the stature and experience of Michael Tilson Thomas would make a fantastic design, but no corners have been cut in installing the latest media equipment to cover all requirements. The 756-seat Performance Hall and the smaller Sun Trust Pavilion are fully equipped for live performance and recording and share two multi-track surround capable control rooms. HD video recording and projection is also available for those hiring the spaces.
Moving to Merging hardware means that audio over IP was now part of the package. Mr Toledo explained how he felt about that: "Ravenna and AES67 also played a huge part in our decision to go with the Merging hardware. The ability to connect a large system, like the one we purchased, with only a few network cables is truly amazing. Future expansion is very easy, and it is something we hope to do soon."
Changing the DAW solution can be quite a daunting proposition, particularly if you are using the industry's most popular software, so there needs to be a good reason: "While I have not had much experience with Pyramix, I see the potential, as it appears to be a very powerful piece of software. For us, being able to record, mix, edit, and export final files (WAVs, MP3s, CD, DDP, etc), all with one program, will greatly improve our workflow. Also we cannot record at more than 192kHz with our current system." He continued.
The Merging system comprising three x Horus, two x Hapi and Pyramix MassCore 256 Master Packs with three x Quintessense Turnkey PC chassis Eucon connected to Avid S6 and S3 consoles, has been delivered but not finally installed although it is hoped that recording can start before the end of 2015 with a temporary cabling solution. The full RAVENNA/AES67 installation is currently planned for summer 2016 with an official start date of next September.
"I am very excited to begin using this new system as I have some high expectations for it. I have a feeling it will definitely meet and more than likely, exceed my demands and expectations," Mr. Toldeo concluded.