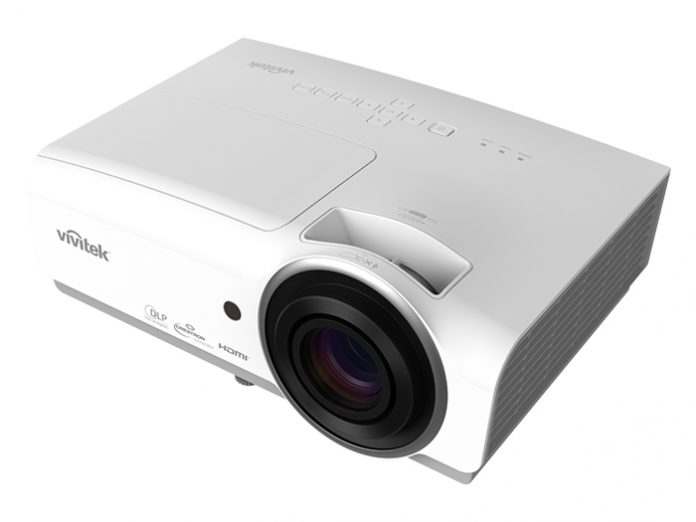 High performance merged with rich connectivity and convenience, are qualities set to distinguish the new Vivitek DU857 DLP Ultra Portable Projector. A highly compact, versatile, easy-to-connect, high-brightness projector that delivers stunning colours, the DU857 offers outstanding image quality, making it perfect for medium-sized meeting rooms. Benefitting from Vivitek's acclaimed expertise in connectivity, cooling efficiency and environmentally friendly design, the DU857 is a compelling proposition for customers requiring a portable projector that will help meetings prosper through enhanced collaboration and productivity.
At the heart of the DU857's outstanding performance are a number of leading-edge projection technologies. These include its DLP and BrilliantColor technology, which enables the Vivitek DU857 to deliver 5,000 lumens of brightness with 4,000 hours of lamp life. In addition, it has a six segment colour wheel which generates vivid and accurate colours, while viviBlack provides a user-controlled enhanced contrast ratio for highly detailed images. Finally, a user controlled Colour Manager can be calibrated according to the content being displayed.
Ensuring that the DU857 is simple to use, is its new On Screen Display (OSD) control menu. This provides improved control over viewing options, the projector's status and the adjustment of display features, ensuring both easy navigation as well as a user friendly experience. In addition to its intuitive, minimal design, users also benefit from improved icons that ensure operating the DU857 is effortless. There is also a Direct Power On function, which automatically puts the power on when plugging the power cord into an outlet without pressing the Power On button.
Also helping to get users up and running quickly, is the DU857's Quick Auto Search filtering function, which quickly locates an input signal source – like HDMI, VGA – within three seconds. Users will also appreciate its other standard features, like the H/V keystone / 4 corner geometric adjustment, and the 1.5x zoom ratio for added installation flexibility.
For more convenience, the DU857 has Power USB-A ports to enable the effortless connection of HDMI-based multimedia or wireless collaboration devices, like Vivitek's NovoConnect family, including the NovoPro – which enables everyone to join in and share content on the big screen with just a few clicks – and the NC-X300. The NC-X300 is Vivitek's add-on device that is ideally suited to those who already have a screen or a projector, but wish to enhance or extend their existing AV infrastructure with wireless presentation functionality, or maximise their screen use with digital signage.
Furthermore, the DU857 is Crestron RoomView certified for simplified communications with remote control over an IT network. In addition supporting Crestron Roomview, eControl, it also supports Connected Extron, AMX SSDP and PJLink Class1.
At a time when all organisations are looking to reduce their carbon footprint, the DU857 has been designed with this requirement in mind. It has been engineered with a range of eco-friendly features, such as its No Signal Power Off, which enables the projector to be configured to Power Off if no signal has been detected, for a period that can be set from 0~180 minutes. It also has a Sleep Timer too, which can be configured on a time scale ranging from 0~600 minutes. Users will also be reassured to hear the DU857 has ISO 9001, ISO 14001 and ISO 45001 certifications.
Keeping the DU857 secure, is a robust Keypad Lock to prevent unauthorised access to the OSD control or remote control operation, while a Kensington Security Lock prevents the projector from being removed.
Commenting on the introduction of the Vivitek DU857, Holger Graeff, General Manager, Vivitek EMEA, stated: "Many businesses need affordable yet powerful AV and IT solutions that give them every chance of competing successfully. With the DU857, Vivitek offers them a projector with all of the collaboration and connectivity features they need to sharpen their competitive edge. The DU857 introduction comes at a time when economies globally are shaping up to a tougher, post-pandemic business environment, where productivity and efficiency will be key to future growth and success. It delivers against those requirements while still meeting the need for reliability, environmental efficiency and value for money."