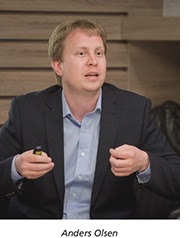 We are very proud to announce that Anders Olsen will join Apart Audio as International Apart Advisor EMEA.
Anders will join our sales team from September 1st onwards, bringing to the role his extensive background within the audio/video industry as well as his 20 years' work experience in sales, retail and B2B. Based in Norway and working in EMEA region Anders enjoyed various sales and marketing roles covering sales and business development with one of the major sound masking systems manufacturers. With a passion for audio, he has studied at University of Sheffield, UK and has lived 6 years in South Korea. He began selling loudspeakers as a teenager and has since continued his career working for audio companies. He has lived and worked in Europe, Asia and Canada for previous companies.
After more than 35 years of travelling and building the Apart brand around the globe, Ian Hodgkinson with all his experience and passion for the audio industry, take up the role of International Support Engineer and focus on further expanding the Apart support and service level towards our international partners.