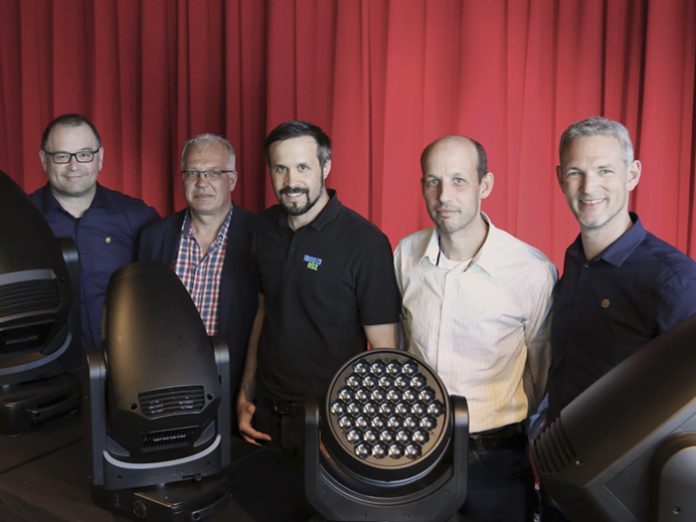 Ayrton is delighted to welcome Menzi Ebz of Horgen, Switzerland as the latest addition to its international distributor network. From 15 September, Menzi Ebz will exclusively distribute and support the full Ayrton range of LED lighting fixtures across all three language areas of Switzerland and the Principality of Liechtenstein. Until the end of 2019, existing Ayrton customers are welcome to contact the current distributor, cast Switzerland AG in Villeneuve.
Specialising in the distribution of scenic lighting and control, Menzi Ebz was founded in 2010 by the event technology company, Menzi Eventtechnik, and lighting company, Ebz Eichenberger Electric ag, which have sold professional stage lighting since 1950. Menzi Ebz operates in all markets across its region from venues to nightclubs, touring and concerts, television stations, theatre and education.
"Menzi Ebz is one of the leading distribution companies for scenic lighting in Switzerland," said CEO, Marco Menzi. "We aim to have the industry's leading brands in our portfolio and pride ourselves on working closely with our customers with a focus on service and support. For this reason, we consider the partnership with Ayrton a perfect match."
But it is not just a common philosophy that brings the two companies together: "Ayrton is a perfect addition to our portfolio which completely rounds off our sales program," explained Marco. "Ayrton offers a comprehensive range with their combination of high-output LED moving heads, which are available in all performance classes, and unique, innovative effect fixtures."
Menzi Ebz marks its new role with an Open Day at its head offices on Tuesday 17 September where it will present Ayrton to its customers for the first time. Members of the Ayrton team will be there to support their activities and meet customers, after which Menzi Ebz will continue its campaign to build up and sustainably promote the Ayrton brand in Switzerland with a broad campaign.
"We are very excited to have Menzi Ebz on board as our latest distributor and look forward to meeting many of their customers face to face at the Open Day," confirmed Ayrton global sales director, Michael Althaus. "This marks the beginning of a great partnership with a company whom we have known and respected for many years."