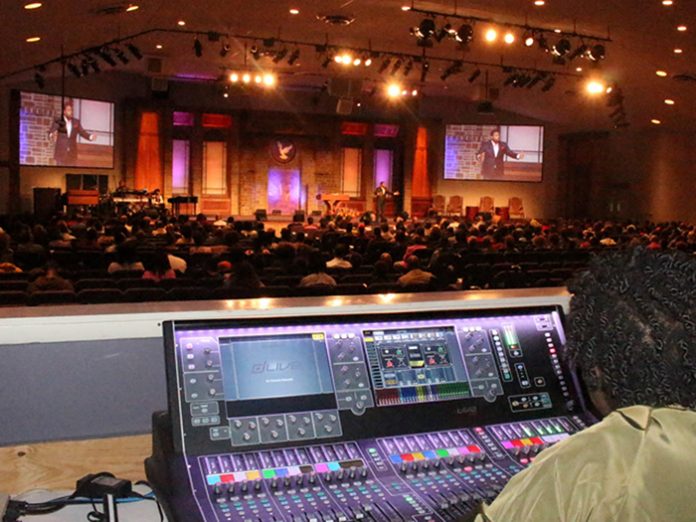 New Covenant Christian Ministries, located in Lithonia, Georgia, is a thriving non-denominational church with an active music ministry supported by an Allen & Heath dLive S Class at front of house, a GLD-80 for broadcast and ME-1 Personal Monitors for the on-stage musicians.
When New Covenant's older FOH digital mixer developed maintenance issues, dB Integrations of Gainesville, Georgia loaned the church an Allen & Heath dLive. Corey Moorehead, Head Audio Technician at New Covenant said, "I was comfortable with the old mixer and wanted to stay with that brand but the usability of the dLive really opened my eyes. Now, I'm telling people from other churches, 'This is the way to go!' And, for the price point and the great support from Allen & Heath, I'm definitely happy that we went this direction."
New Covenant's dLive includes an S5000 Surface, DM48 MixRack and DX32 Expander. Corey, who received dLive Certification at an Allen & Heath training session, sets up the dLive for the volunteers who mix the church's two Sunday worship services, holiday productions and frequent special events. He used dLive layers to manage the church's multiple wireless mics, its five-piece band, its choir, its nine praise singers and audio from its presentation and video systems.
Corey has a single dLive scene for the church's worship services. But, he uses multiple scenes to manage holiday programs and special events. He adds dLive effects artistically. "Once and a while I'll throw an echo or a plate on the praise team or the choir," he says. "That warms things up nicely."
The church broadcasts its second service each Sunday via live streaming using an Allen & Heath GLD-80 digital mixing system with inputs from the FOH dLive via Dante cards in each mixer. dB Integrations' Ronnie Stanford notes, "The GLD-80 gave them a simple way to mix audio for streaming broadcast with access to every channel. It does just what they need at a great price point and its operation is very similar to the dLive."
Allen & Heath ME-1 personal monitor mixers provide in-ear feeds for New Covenant's band and for the floor wedges used by the praise team and the choir. Corey noted, "The band loves the ME-1s. Whatever I have on the dLive, they can pull it in and detail their own mix."
Corey Taylor, New Covenant's Music Minister added, "We had been using another brand of personal mixer but I fell in love with the ME-1s. And, the dLive is my baby. When we installed the mixer, I sat down at my piano and started playing. The clarity was unbelievable!"