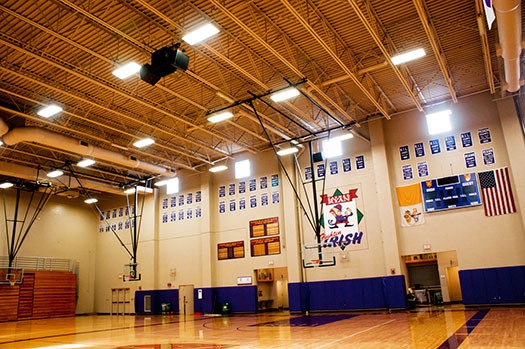 Father Ryan High School has been a paragon of Nashville education for nearly a century, and currently serves a standing enrollment of nearly 900 students. Although the facilities are great, the sound system for the 2,300-seat gymnasium lacked intelligibility and musical impact. Consequently, Father Ryan had to rent a sound system for graduations and other large events, and it had to make do with the less-than-ideal system for sporting events. Now, thanks to local audio visual firm Linton Audio Unlimited, Father Ryan has an excellent sound system based around an Ashly Audio ne24.24M Protea matrix processor, three Ashly nX-Series amplifiers, and an Ashly MX-206 analogue mixer.
"Father Ryan High School was in need of an excellent sound reinforcement system that would capably cover the stands and the floor, with flexibility to work with different stage and seating arrangements for different kinds of events," explained Gus Laux, owner of Linton Audio and long-time tour manager, with country music legend, Don Williams. "We decided on a system with four zones, where each of them could be turned off or on, delayed, or adjusted to give the school ideal directionality and clarity for any situation they could foresee. I went with Ashly because I've been successfully using Ashly products since the late 1970's. Ashly has a killer combo of versatility, sonic beauty, and reliability – Ashly gear always does what I expect it to do right out of the box, and it does it day-in and day-out, for years on end. And of course it's great that Ashly is made in the USA."
Four biamped Worx Audio X2 loudspeakers provide complete coverage of the stands and the floor, with a Worx Audio TL118SS 18-inch subwoofer to round out the low end. Together, two four-channel Ashly nX 3.04 amplifiers that deliver 3000W per channel power the four biamped loudspeakers, and a two-channel Ashly nX 3.02 amplifier handles the subwoofer. "I wanted to give every component plenty of power," Gus said. "The cable runs are especially long, so I knew I had to get as much power at the front end as possible."
An Ashly ne24.24M Protea matrix processor handles all of the loudspeaker and subwoofer conditioning, as well as all the necessary matrix routing, level adjustments, and delay to properly tune the system for any given type of event. Users control input volumes and output volumes from an intuitive Ashly MX-206 analog microphone/line-level stereo mixer. Together with two wireless microphones, strategically located jacks provide wired microphone input. Additional existing music sources and a jack on the front of the MX-206 give Father Ryan High School plenty of options.
"We've gotten great reports from the school officials. The president went to an event and said the intelligibility and impact far exceeded anyone's expectations. No matter where they are in the room and no matter how they orient the system, everyone can hear every detail, from just four loudspeakers. We set up the delays and leveling so that listeners always locate the sound at the stage or wherever the action is – you hardly notice the other loudspeakers even though they're doing a lot of work. In addition, the response is full-frequency hi-fi, and one of the board of directors was so taken by it that he wanted to bring music in to hang out and listen." Gus concluded.