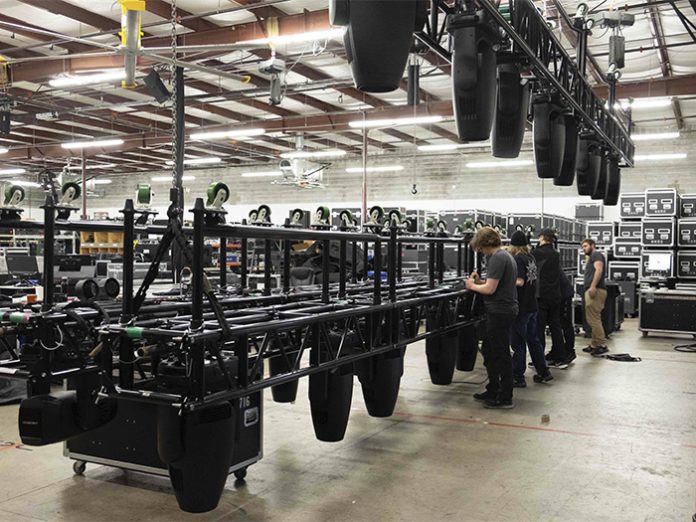 Nashville-based CTS AVL, a full-service audio, video and lighting company specialising in live events, has expanded its lighting inventory with a large complement of Ayrton Khamsin profile and Mistral-S ultra-compact spot luminaires.  ACT Entertainment is the exclusive distributor of Ayrton lighting fixtures in North America.
CTS AVL had been an audio company for almost 40 years when it branched out to video and lighting about half-a-dozen years ago.  The addition of Ayrton Khamsins and Mistrals, the company's first Ayrton purchases, offers more high-end lighting options for customers across all markets and across the US.
"We needed a high-output fixture with framing shutters and an LED source," says lead lighting technician, Carter Ranson.  "We were looking for something with a big feature set.  I saw Khamsins in use on the road and loved the fixture, and from the research I did they seemed very robust.  Then I got my hands on Khamsin at LDI 2021."
He expects CTS AVL's roster of Khamsins to be used mostly as key lights thanks to their even, flat field.  They will also be in the rig to create aerial effects and light scenic elements.
"We're getting ready to do several large-scale corporate projects back-to-back, so there was a big push to get the Khamsins in for those events," notes CTS AVL vice president, Mike Taylor.
The Mistrals will be slated for aerial effects and back lighting, according to Ranson, who saw the fixtures at LDI and in use at Nashville's famed Ryman Auditorium.  "We love how small they are for such a big output," he says.  "We can fit four in a case, which is really nice for us."  Taylor explains that, "as a company working nationally, getting the most out of our truck space is a big deal."
Ranson also pointed out that: "the Mistrals will integrate well in the rig with our Khamsins – a lot of the gobos are the same, and they'll match colours easily."
Taylor notes that CTS AVL has a long history of acquiring its inventory from ACT.  "We're a specialised, boutique-style company that doesn't invest in hundreds of lights at a time, but ACT has always made us feel just as valued as the larger companies they deal with."
In addition, Ranson cites ACT's "excellent support in the field. I always get answers quickly when I need them."