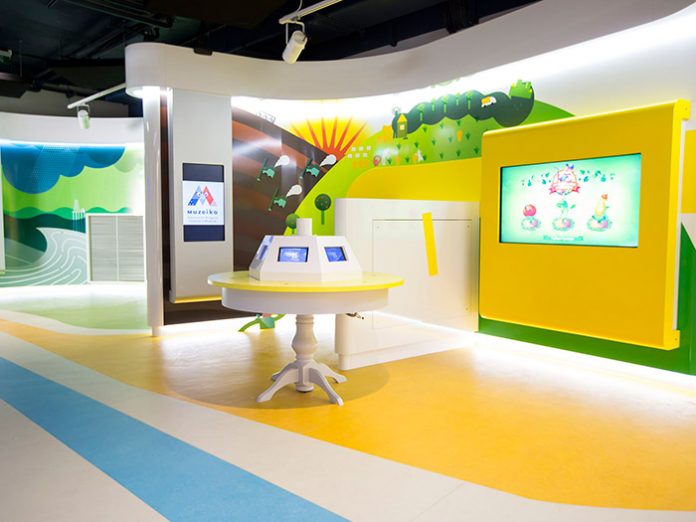 Bulgaria's first children's museum, Muzeiko ("Little Museum"), has opened in Sofia with audio, video and AV control equipment integration by Electrosonic. The Muzeiko project ran concurrent with Electrosonic's Konya Science Center project in Turkey, marking an expanded roster of international museum installations for the company. Both projects were performed under contract to Kubik Maltbie, based in Mount Laurel, New Jersey.
The award-winning 35,000 sq ft Muzeiko was designed by American architect Lee H. Skolnick and funded primarily by the US based nonprofit, America for Bulgaria Foundation. Skolnick has the Miami Children's Museum and the Children's Museum of the East End in Bridgehampton, New York, among his credits. He and his team worked with A&A Architects to adapt a former university laboratory building to Bulgaria's first museum tailored for kids.
The museum's centrepiece is a three story tree scenic element, which rises at the centre of the building and represents the past, present and future of the region. At the roots of the tree, the lowest level of the museum features exhibits on geology and palaeontology. The heart of the tree is at ground floor level where there are displays of habitats and modern architecture. The tree canopy, capping the top floor, looks to future technologies and space travel.
"Muzeiko has the feel of a science centre with its science-oriented exhibits for children," noted Electrosonic project manager Tim Wilson. "The Muzeiko team was new to this kind of attraction, but they were very open to ideas and comments from us based on our previous museum experience." Electrosonic's Gary Belshaw served as site supervisor and commissioning engineer for Muzeiko.
To meet the budgetary needs of the museum and ensure easy operation and maintenance by the staff, Electrosonic selected "tried and true equipment" for the exhibits, which would provide robust, reliable service, said Tim. Samsung monitors of various sizes act as the primary displays; Christie and Barco projectors are deployed in several exhibits. Elo Touch Solutions touchscreens are the major interactive video components with Dell PCs behind the scenes.
An Ideum 55-inch touchtable is at the centre of an exhibit on astronomical discoveries. Two 46-inch CyberTouch multi-monitors guide visitors through the farm-to-table food area and an exhibit on adapting atmospheres. A GestureTek reactive system captures visitors' movements for the "Connect 4" exhibit. RFID interfaces from RFID, help visitors make healthy menu choices in the "What's for Lunch?" exhibit.
A Peavey MediaMatrix DSP is at the centre of the audio equipment complement. An AMX NX-2200 master control system handles all show control tasks for Muzeiko. Electrosonic networked together three control rooms, one located on each floor of the museum. AV systems are maintained by Muzeiko staff.
Muzeiko won the Bulgarian Building of the Year Award in the Educational category. The museum was one of five new educational buildings participating in the competition.