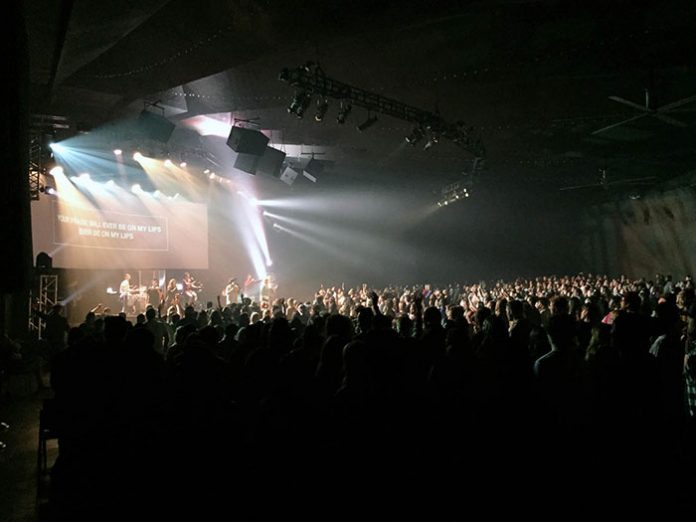 The history of Mosaic Church goes back to the 1940s, when the then-called Bethel Baptist Church met for the first time with 35 members in a rented storefront. In the ensuing decades, the church broke records for missionaries and founded numerous churches throughout southern California and the world. Today, Mosaic maintains that drive with a contemporary worship style that's big on energy and spirit. The church moved into a new 750-seat sanctuary in 2012 with the sound reinforcement system that had been designed for its previous space. It didn't fit very well, but now Mosaic is back to rocking concert-style services with a full-blooded Danley Sound Labs sound reinforcement system, with point-source clarity, low distortion, stellar pattern control, and abundant SPL.
"We needed a sound system that was expressly designed for our new worship space," said Matthew Grabe, an LA-based, FOH engineer, monitor engineer, and system engineer who volunteers his expertise for development direction. "The room is fan-shaped: 150 feet wide but only 62 feet deep. It was designed in 1959 to naturally amplify vocals. All the walls are concave with inward slopes, which works against the mix. We spoke with a few contractors who spec'd compact line arrays, but I wasn't convinced they were appropriate for the room. The short line length wouldn't provide us low-frequency directivity and would only add unnecessary combing. My search for a high-sensitivity, sharp-patterned, balanced-sounding point-source solution led me to Danley."
With assistance from Joel Moak, Danley's western region sales manager, Matthew designed a dual mono system using Danley components. Each mono system delivers complete coverage by itself. The centre mono system is comprised of two Danley SH-96HO loudspeakers, splayed to cover either side of the room, paired with two end-fired Danley TH-118 subwoofers. Drums, bass, and vocals are routed through the centre mono system. The side mono system is comprised of two Danley SH-64 loudspeakers, each on either side of the centre mono system. Guitars and keyboards are routed through the side mono system.
"We run loud services, and intermodulation distortion on the old system was bad," Matthew said. "That inspired the split into two mono systems. The separation of content to dedicated enclosures improved our headroom, intelligibility, and spread while minimising intermodulation distortion. Interestingly, the two TH-118 subwoofers match the output of our previous four dual 18s, but with noticeably greater impact."
Two four-channel Danley DNA 20K4 Pro amplifiers power the system. One powers the two SH-96HOs, each of which is biamped. Two channels of the other DNA 20K4 Pro power the subwoofers, and its remaining two channels power the SH-64s. On-board DSP provides modest loudspeaker conditioning, with a Danley DNA SC48 processor and system controller at the front for overall system DSP. "Monitoring the current draw and voltage output when the band is at full tilt is shocking – the amps aren't breaking a sweat," Matthew said. "And the peak, thermal, and excursion limiters provided in the Danley DSP give us peace of mind with a team of rotating mix engineers." In addition to all the Danley gear, a new Soundcraft Vi7000 mixer serves as the FOH interface, providing mixes for the house, in-ear monitors, and broadcast.
"The new system has more headroom, and its sound is easier to listen to, even at higher SPLs," Matthew concluded. "Mixing on it is much more enjoyable. Now, the mixers can let their instincts drive the experience rather than working around system limitations. The staff and volunteer team are excited as well. A lot of them are working professionals in the industry with great ears. They continually mention the drastic improvement over the previous system."