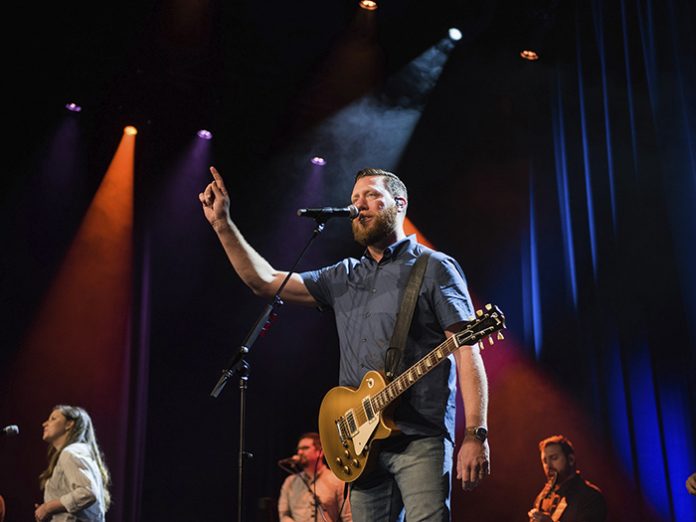 FishHawk Fellowship Church has seen a steady influx of new members over the last 15 years, growing from an average of 158 weekly attendees to 2,000-plus. At the heart of this dynamic church's expansion has been its unfailing efforts to touch the lives of worshippers in a multitude of ways – and not just on Sundays.
This philosophy is very evident in FishHawk's newest facility, which does "double duty" when not hosting religious services by serving as a community centre / gymnasium. Having one room fulfil such widely different functions, and do it all well, is no easy task, which is why the church contacted Morris Integration for help in designing a flexible space. Morris obliged, coming up with a room concept that excels as both a worship and recreational area. Key to helping the company accomplish this design feat is a flexible lighting system that features Chauvet Professional fixtures.
Wade Russell, Morris Integration's assistant general manager, recalled that the entire project provided an interesting challenge: "We needed to make sure the worship space looked like a worship space, but could also transform into a gym during the week. For such a vital and growing community, being able to have a dual-purpose facility was an absolute necessity. For our lighting design, this meant choosing robust, low-profile fixtures to fit within the space, but also providing all the lighting elements we needed for really successful worship."
The Morris team specified 18 Ovation E-260WW fixtures for front lights, complemented by 26 Rogue fixtures. "The Ovation 260 is the brightest LED-based ellipsoidal on the market and offers a variety of lens options for total control of the beam angles," said Wade.
"The even light field provides well-defined gobo projections, and it also blends very well with wash applications. Since the fixture housing is completely dust free, the church won't have to worry about maintenance, and – because there is no fan – it is also virtually silent, so it won't distract from the service, or any other events occurring within the gymnatorium."
The 20 Rogue R1 Wash and six Rogue R3 Spot fixtures were hung over the stage and placed on the platform to add colour and depth to the stage and video shots. "The Rogue fixtures were an easy choice because they work so seamlessly with the Ovations. The Rogue Washes provide super smooth colour mixing and can double as a pixel effect, which really adds to the high-energy performances of the worship band. We also included an Amhaze unit for the church to create great beam effects on stage, plus it adds an additional element of creativity for the lighting designer."
Since the new building opened in March, the response from church leadership and within the community has been overwhelmingly positive, according to Wade. "We've gotten great feedback on the space," he said, "not just as a worship area but as a gym, too. The church is able to fill two roles without one taking anything away from the other."