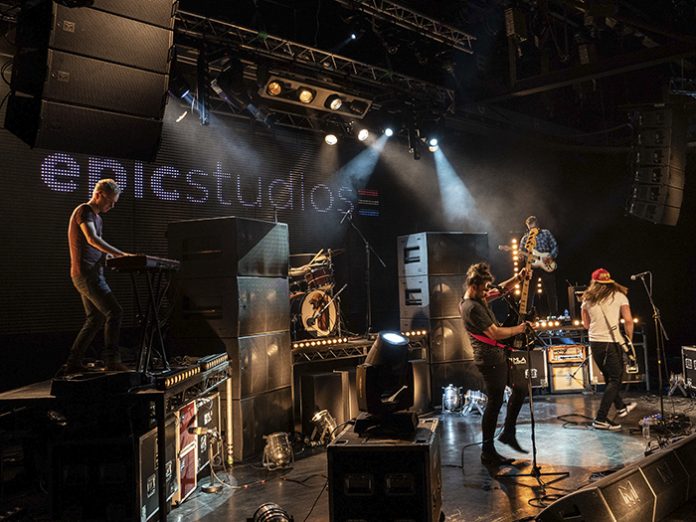 Epic Studios, a leading TV and entertainment centre in Norwich, has become one of the elite venues to boast a permanent installation of Martin Audio's ground-breaking MLA PA system following a £250,000 investment in the state-of-the-art technology.
The procurement of Martin Audio's flagship system followed a push by management to establish the venue as the best, most technologically-advanced in East Anglia, and followed a shoot out between many premier brands.
Said Technical Manager, Matt Rabong, "After contacting Richard Van Nairn, Martin Audio brought in a system for a demo day, when I also tested many other systems. We ultimately chose MLA for its sound quality, particularly the punchy subs and its 'Hard Avoid' feature, which allows us to steer the sound away from our roof where the most leakage is, as well as our back wall which houses our production gallery."
Their previous PA had also been a Martin Audio system, comprising Wavefront W8C and WSX subs as well as F12s as stage monitors. "I was very happy to stick with Martin Audio as I trusted the brand to deliver great sound quality as well as supporting a British manufacturer," he continued. The W8Cs and F12s will remain in service as sidefills when required."
The new system comprises 12 x MLA Compact (six elements per L/R hang), eight DSX subs, five CDD-LIVE 15s plus a CSX-LIVE 118 sub, eight LE200 wedge monitors plus all necessary amps and distro. Epic Studios also invested in upgraded digital mixing desks for FOH and monitors.
The rig was supplied and installed by locally-based Saturn Audio Visual, while Martin Audio's Product Support Engineer, Ben Tucker assisted with the install and staff training.
With three spaces for intimate or mid-scale shows, production rehearsal and video production, the arrival of MLA at Epic Studios confers the ability to offer state-of-the-art, revolutionary sound performance at unprecedented levels of volume with no detriment to quality and the added benefit of minimum disruption to the local neighbourhood.
The initiative—which began last year with an additional £250,000 investment in lighting and effects—is part of a drive to instil Epic Studios as a top-tier small arena, with plans to increase capacity towards its full-scale 3,000-strong audience area.
The facility will now be used by third parties as well as their own promotions. It is already fully customisable for events of all type/size/function etc. to include television programmes, sporting events, arena gigs and intimate shows. Matt Rabong says they will also be holding MLA training for local sound engineers to get hands-on experience and hear it in action.
"We are now following through ambitions of increasing capacity and installing state-of-the-art facilities to cement our reputation as a world-class small arena and the best in East Anglia, offering the ultimate experience for both the audience and performing artists alike," concluded Owner / Director, Jonathan Thursby.