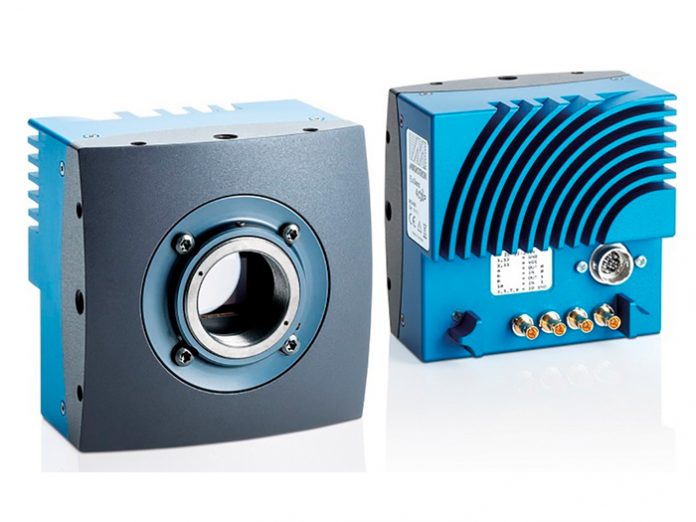 Since being approved as an official interface standard in 2011, CoaXPress (CXP) has established a leadership position in the machine vision industry by offering a combination of high levels of bandwidth, low latency, maximum reliability, extended coaxial cable lengths, and blazing speed.
Over the years, as CXP gained its significant status in the vision ecosystem, Mikrotron has launched a series of groundbreaking cameras that fully leveraged the CXP standard's potential. Moving forward, Mikrotron has embraced the next significant evolution of the standard, CoaXPress 2.0, with the introduction of two new cameras: the EoSens 2.0CXP2 and the EoSens 1.1CXP2.
The original version of CXP supported a maximum data rate of 6.25 Gbps, or approximately six times faster than GigE Vision and 40 percent faster than USB3. Version 2.0 of CXP added two more speeds: 10 Gb/s (CXP-10) and 12.5 Gb/s (CXP-12) that supports higher resolution cameras at double the speed of the original, and in a platform that is easily adapted and scaled to meet rapidly changing requirements. For example, using one camera and four CXP-12 connections, a CXP2.0 link is able to support data transmission rates up to 50 Gbit/s.
The Mikrotron EoSens 2.0CXP2 model features a 2 megapixel LUX19HS image sensor with 10µm pixel, in 4/3" optical format. It delivers 2,220 fps (frame-per-second) at 1920 x 1080 resolution and a maximum of 18,100 fps at 128 x 128, and has 60dB dynamic range. Itsrobust, compact (80 x 80 x 53mm) footprint allows integration into almost any industrial, medical or military application, no matter how small. The Mikrotron EoSens 1.1CXP2 is identical to the 2.0CXP2 except for its 1.1 megapixel resolution. Depending on system requirements, both cameras are available in monochrome or color.
Since many legacy industrial, traffic monitoring, broadcasting, and military systems use analog cameras running on coaxial cables, these systems can easily be upgraded with Mikrotron CXP cameras without the need to replace the entire cabling infrastructure with Ethernet cables. Coaxial cables have inherently excellent protection against electromagnetic/ radio frequency interference, reducing risks of downtime or latencies. System integrators value CXP's support of coaxial cable distances of 100 meters and beyond, operating at different speeds and resolutions. CXP offers greater flexibility for system integrators who previously were handcuffed to a few meters if using Camera Link or USB3.