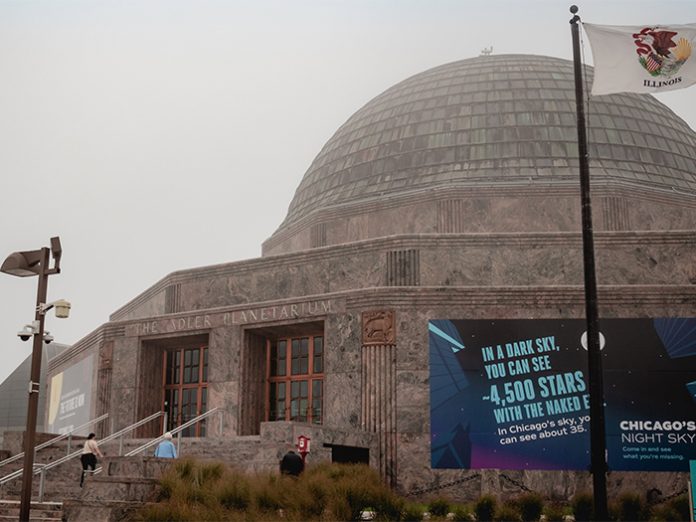 As part of a major renovation project, Adler Planetarium in Chicago recently replaced the original audio system in its Definiti Theater with an all-new system featuring a complement of eight full-range Meyer Sound cinema series loudspeakers and two 900-LFC low frequency control elements. Opened to the public in 1999 and currently seating 181, the Definiti is the smaller of two domed theatres at the Adler Planetarium. The venerable 195-seat Grainger Sky Theater, operating since 1930, received its own upgrade to a Meyer Sound self-powered system when it was last renewed in 2011.
"We definitely had a positive experience with Meyer Sound in the Grainger," said Mike Smail, director of theaters and digital experience for the Adler Planetarium. "So when it came time to upgrade the Definiti we wanted a system that would be equally robust, and that also would use the same kind of control infrastructure. Naturally, this made Meyer Sound our first go-to solution."
Two years prior to the Definiti Theater project, the Adler Planetarium had contracted Chicago-based Audio Integration Services (AIS) to expand I/O capacity for the existing Meyer Sound system in the Grainger Sky Theater. Based on the ensuing positive relationship, AIS President Mathew Edgar along with Director of Sales and Installation Javier Briseno were brought on board to develop an all-Meyer Sound loudspeaker solution for the Definiti Theater. Michael Barret, head of design at AIS, worked with Meyer Sound Design Services to craft a smart solution. "We needed a design based on loudspeakers that could provide significantly better performance while still fitting in some very tight spaces," recalls Edgar.
The installation would entail problematic challenges. The 55 ft. diameter dome is mounted at a 14-degree tilt inside the supporting structure, resulting in very tight spaces between the dome screen and surrounding flat walls. Removing portions of the screen was not an option, so the old speakers had to be removed and new ones installed while working in close quarters with significant weight restrictions.
"Frankly, I'm not sure the Meyer Sound self-powered solution would have been feasible without the IntelligentDC technology," admitted Javier Briseno. "It was hard enough getting the old passive speakers out and putting in the new Meyer boxes, but running electrical power to all locations would have been extremely difficult and expensive. Fortunately, in this case, it was all done with a single lightweight cable and no conduit was required."
An exclusive Meyer Sound technology, IntelligentDC combines the performance advantages of self-powered, bi-amplified systems with the installation ease of constant voltage systems. Balanced audio and 48V DC power are carried to the loudspeakers from a rack-mount power supply over a single 5-conductor cable.
The new 5.1 system for the Definiti Theater is anchored by a front LCR system of four HMS-12 cinema loudspeakers, with one each assigned to upper and lower center channels and one each for left and right channels. The surround system comprises four HMS-12 cinema loudspeakers, with two 900-LFC low-frequency control elements handling deep bass effects. Two MPS-488HP units distributed power and signal while also enabling system-wide computer status monitoring via the RMS network. System drive and optimization is provided by a GALAXY 816 Network Platform.
The new system made its debut in November of last year, with two programs running in rotation: Skywatch Live and Planet Nine. Audio for Skywatch Live is primarily focused on the live presenter, while Planet Nine features more of a film-style surround mix of narration, music and effects.
"The improvements in quality have been very noticeable and appreciated," noted Mike . "It's so much better than before. We always want to ensure that each visitor has the best possible experience, and the new system takes a giant step forward in making sure it is an exceptional audio experience for everybody at every seat, and not just those in an acoustic sweet spot."
As part of the complete audio upgrade project, AIS also installed a new Midas M32R mixing console and a Focusrite Rednet D16R network interface for connecting to the Meyer Sound GALAXY via AES3.
The 2011 upgrade at the Grainger Sky Theater deployed a Meyer Sound system comprising 12 UPJ-1P loudspeakers plus three Acheron cinema loudspeakers along with four cinema series subwoofers. Flexible signal routing and control is implemented via a D-Mitri digital audio platform.
Renowned as America's first planetarium, the Adler Planetarium draws over a half million visitors annually. All theatres were closed in March 2020 due to the COVID-19 pandemic, but reopening is anticipated as soon as circumstances and applicable regulations permit.