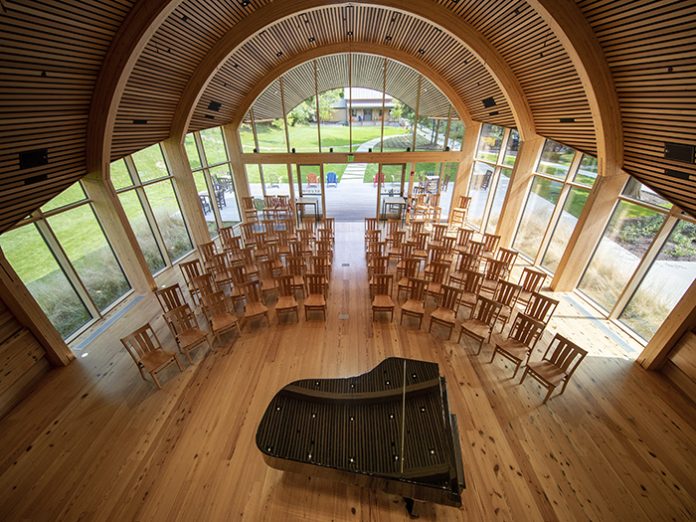 Studio 9 at Porches Inn in North Adams, Massachusetts invites superlatives but otherwise defies categorization. A fully sustainable and architecturally striking structure, it was originally conceived as a dining and event venue. However, with installation of Meyer Sound Constellation active acoustics in 2019, it was transformed into an intimate live performance and recording space. With the addition of the Spacemap Go spatial sound design and live mixing tool earlier this year, Studio 9 has fully evolved into a one-of-a-kind laboratory for musical innovation.
The principal partner in Studio 9 venture is FreshGrass Foundation, a non-profit dedicated to preserving, supporting and creating innovative grassroots music. Studio 9 is already proving a valuable adjunct to the FreshGrass Festivals — staged at nearby MASS MoCA since 2011 and now also in Bentonville, Arkansas — in developing and promoting new generations of roots music artists.
"There is a shared vision and a shared ecosystem between Studio 9 and FreshGrass," said the foundation's founder and president, Chris Wadsworth. "Our objective is to turn Studio 9 into a beacon of creativity and innovation. One of the wonderful things about this building is that, with Constellation, you can tune the room to the composition, so it is more like an art installation than a concert venue."
Another pivotal player at Studio 9 is Dave Dennison, a long-time Meyer Sound associate whose new title as Curator encompasses a broad swath of creative and technical roles, from artist development through studio engineering. Dennison was originally brought in to supervise 2019 recordings by the Kronos Quartet, but was convinced to stay on in a permanent role.
"Studio 9 is a great place to record," emphasizes Dennison, "because it offers more freedom for musicians. With Constellation, they are not tied to a recording session where they need headphones. It is much more like a free-form rehearsal space."
The recent addition of Spacemap Go took Studio 9's potential up yet another notch. "Spacemap Go is an extremely powerful tool," says Dennison. "In a live setting it offers the engineer the ability to fly things around the venue. You are not tied to two speakers in a stereo field, or even a typical surround mix. Here, you are completely immersed in close to fifty speakers, all individually addressable, so you can fly an instrument or voice anywhere. All the trajectories can be saved in sync with the music, so you have a beautifully spatialized mix that can be replayed here, or even at other venues equipped with Spacemap Go."
Both Constellation and Spacemap Go use the same complement of 37 full range, self-powered loudspeakers (MM-4XP™ and UP-4slim™) and 10 MM-10XP™ miniature subwoofers. Constellation also utilizes 16 miniature cardioid microphones for ambient sensing and a D-Mitri® digital audio platform to host the patented VRAS acoustical algorithm. Spacemap Go is driven by three GALAXY™ 816 processors. Constellation and Spacemap Go can be used separately or simultaneously, with spatial sound trajectories overlaid on flexible acoustical environments. The creative audio capabilities also can be used to augment Studio 9's Vive Enterprise Arena VR system.
The Studio 9 control room is centered around an Avid S6 mixing console with monitoring via three Meyer Sound Acheron Designer loudspeakers and an X‑400C™ compact cinema subwoofer.
System integrator for the project was Parsons Audio (Wellesley Hills, MA) under the direction of Managing Partner Roger Talkov, with Matt Dailey serving as project manager for the Spacemap Go upgrade.
"The Constellation installation was challenging because of the precision tolerances required, which was complicated by the conical roof shape and ceiling system," notes Talkov. "That made microphone and speaker positioning extremely difficult in the 3D space. The payoff in attention to detail was quick commissioning and a fantastic textbook outcome. The musicians that played in Studio 9 when it first opened raved about how easy and comfortable it was for them to perform."
The Porches Inn was built by the Wadsworth family and it is located adjacent to the Massachusetts Museum of Contemporary Art (MASS MoCA). Studio 9 operates as a partnership of MASS MoCA, Dave Dennison, FreshGrass Foundation and THE OFFICE performing arts + film.