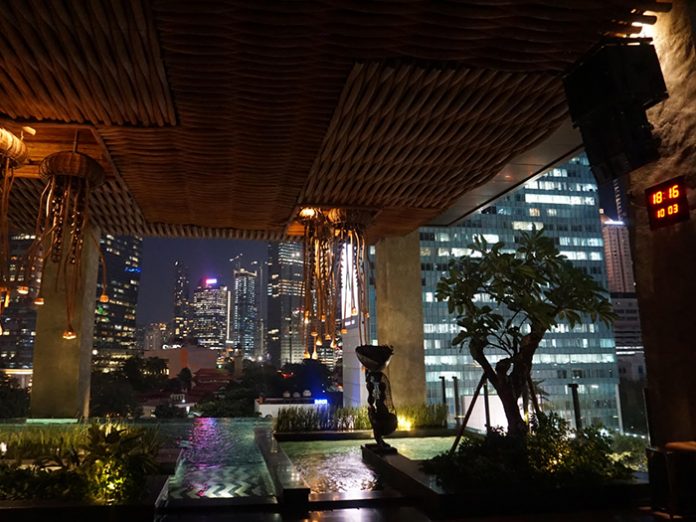 Sudirman Suites is an upscale residential tower on 21 floors for a total of 400 units. Completed in 2018 by the Pikko Group, it is part of an upcoming complex on Jalan Bendungan Hilir that will also include a shopping centre, a hotel, restaurants, and offices.
Located in the district of Tanah Abang, at the corner of Jalan Sudirman and Jalan Bendungan Hilir. That's right in the heart of the business district, just halfway between Plaza Indonesia and Plaza Senayan, and within 10 minutes from both Mega Kuningan and SCBD.
The Sudirman Suites required an audio solution for pool area that could provide breathtaking sound output and clarity for a variety of events and also as a BGM to build an ambience. ASIIS Indonesia have joined forces to install the pool's audio equipment with ARES8a and S21a subwoofer from AUDIOFOCUS.  "AUDIOFOCUS system is the best solution, we really satisfied with the result," said Mr. Eko, owner of Sudirman Suites.
ARES8a line array system is suitable for a wide range of sound reinforcement applications from small scale concerts to theatres where sound quality is crucial. AUDIOFOCUS ARES8a offers all the benefits of real line array respecting all WST criteria. Dual eight-inch Faital Pro handles low-mid frequency range while a 1.4-inch exit compression driver coupled to a waveguide provides smooth top end. With this compact and lightweight cabinet a single operator is capable to set up individually the system of eight elements only in 10 minutes due to smart and handy rigging.
ARES S21a equipped with one powerful specific 21-inch B&C neodymium driver with 4.5-inch voice coil powered by a built in Powersoft amplifier with DSP on board. The amplifier is able to deliver about 270Vpeak/4ohms which represents a short term headroom of about 6dB SPL higher than than any other compact shape sub on the market. AUDIOFOCUS state-of-the-art T-ligned + reflex design subwoofer delivering exceptional sensitivity reaching 142dB max SPL at 35 Hz and 145dB SPL at 50Hz. Its compact size and integrated rigging makes it extremely well suited for flown coupled configurations. For easy wiring, the S21 provides additional connectors on the front grill for cardioid and end fire setup.
'It was a pleasure to provide the audio system in Sudirman Suites, and for now we still doing another projects in there,' said Andy M Sutikno, Director of ASIIS Indonesia.