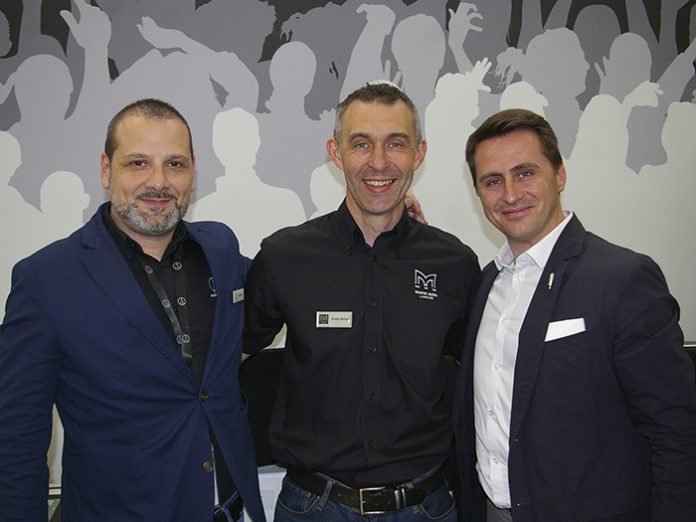 Following the appointment of Audio-Technica Germany as its new German distributor late last year, Martin Audio has now announced the transfer of its Spanish distribution to Audio-Technica Iberia.
The partnership, which was put in place at ISE in February, and confirmed at this year's Prolight+Sound in Frankfurt, became effective 1 June, 2019.
Speaking of this latest brand acquisition Audio-Technica Iberia MD Sylvain Hochart said he was delighted to have filled the vital link in their exclusive distribution portfolio, alongside Allen & Heath mixers, Audio-Technica microphones and Clear-Com: "We were looking for a premium loudspeaker brand with pedigree and high value. Martin Audio was our number one choice—particularly after the new arrangement had started so positively in Germany."
They were soon in discussion with Martin Audio MD Dom Harter and International Sales Director, Bradley Watson after being introduced by Audio-Technica Germany General Manager, Matthias Exner. "Both Audio-Technica and Martin Audio are passionate brands, with strong values and principles as well as a rich heritage," stated Sylvain. "Therefore it was an obvious discussion to have, and it means we can now offer a complete end to end solution."
With bases in Madrid and Barcelona, Audio-Technica Iberia has product managers dedicated to the Live and Installation sectors, overseen by Professional Audio Product Manager Gabriel Albornoz. They already have an experienced Martin Audio product specialist in their team who had worked with the manufacturer's previous distributor.
Having attended the recent Open Days in High Wycombe, he was highly optimistic about the Martin Audio brand portfolio. "I am already in love with the point source two-way speakers," stated Gabriel. "The CDD-LIVE8 has really impressed us and we can offer a range of excellent value portable systems. I also have high expectations for the WPC and WPM [Wavefront Precision] Compact and Mini Line Arrays which are extremely convenient for mid-size rental companies with their scalable resolution."
Rubber-stamping the new appointment, Bradley Watson said: "A pan-European deal was always part of the plan, with the advantage of a single point ordering process. Audio-Technica Iberia has a very good network of territory specialists and collectively they bring a lot of experience. We look forward to working with Sylvain and his team."