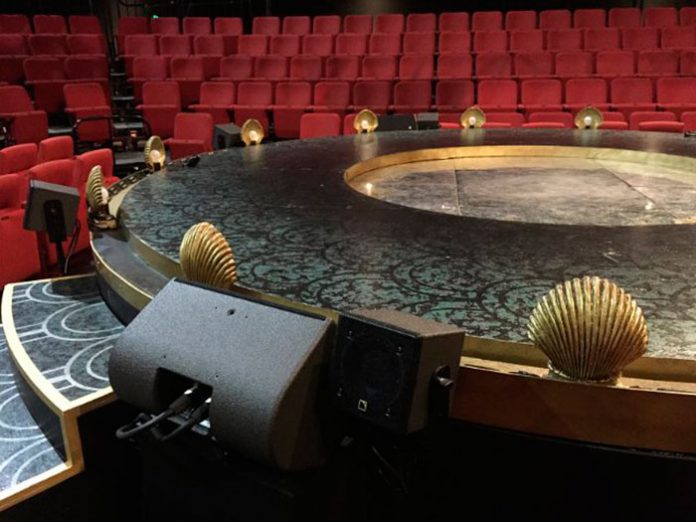 The Malthouse Theatre in Melbourne has upgraded its ageing sound system with L-Acoustics.
Melbourne has been the home of the Malthouse Theatre since 1990, when Carlton and United Breweries donated the space for the creation and presentation of contemporary Australian theatre. Today, the thriving theatre presents mainly cabarets and musicals, but also plays, conferences and seminars.
In early 2016, the decade old audio system was due for a technical upgrade. The venue is run as a non-profit organisation, so budget was a major criterion in the choice of a system. The Coopers Malthouse consists of three theatres, rehearsal studios, meeting rooms, a bar and a café. Seating configurations in each theatre change depending on the performance criteria, so the new system also needed to be flexible and easily reconfigured – both in terms of loudspeaker relocation where weight is a key factor, due to health and safety legislation and the straightforward selection of system presets.
The old audio system, installed in 2006, incorporated L-Acoustics MTD coaxial loudspeakers and had given 10 years of service with virtually zero problems, highlighting the fantastic reliability of L-Acoustics product. In choosing the new system, weight limitations and the venue's low ceiling steered the decision towards L-Acoustics' new coaxial range, the X Series.
"The new L-Acoustics X Series loudspeakers caught our eye, given their size, weight and the fact that they satisfied all our criteria," said Baird McKenna, technical manager at Malthouse Theatre. "We were a little nervous at first, because they are a new range and this was possibly the first theatre installation in the world to use them, but the fantastic reliability of the previous L-Acoustics system gave us the confidence that they were the right choice."
That confidence was boosted by Norwest Productions, who were engaged as the preferred integrator, due to both a long-term relationship with the venue and their expertise with L-Acoustics products. "Norwest reassured us that quality and reliability is paramount in the design and development of L-Acoustics products. It gave us further confidence that we were making the right choice," said Baird.
Supplied by Hills Limited, the new system comprises eight L-Acoustics X12 for main front of house sound, four X8 delays, six 5XT with two SB15M subs for front fill, and two SB18M subs in addition to the MTD subs from the previous system. Five LA4X amplified controllers power and control the system.
"Approvals for this major sound system upgrade were received in 2015, and the system had to be installed by the end of January 2016. We worked closely with L-Acoustics to meet the deadline," said Gerry Gavros, Brand Manager (Pro and Commercial Audio) at Hills Limited.
"The X Series delivers crystal clear vocal clarity throughout each of the theatres and is consistent across all audience areas," said Baird. "An added advantage is that the X12, X8 and 5XT all work beautifully together – there is amazing tonal consistency across the three models. Our sound operators are over the moon and find the system a joy to work with – it makes their shows really come to life."