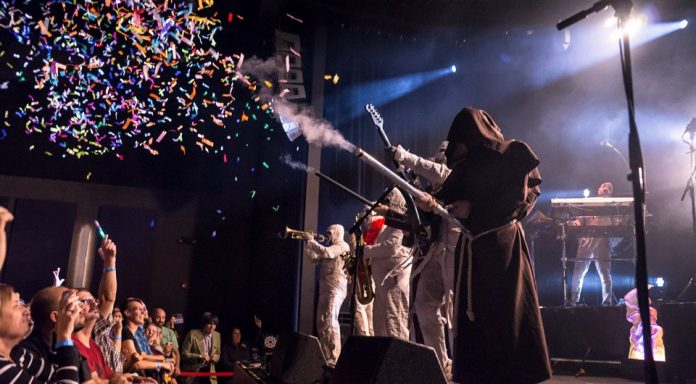 When Pageant Theater co-owners Pat Hagin and Joe Edwards set out to add a mid sized venue to their St. Louis live music venue portfolio, they knew it had to deliver a world class sonic experience in order to cement a place in the city's legendary music scene. The pair hired St. Louis based Logic Systems to deliver a state-of-the-art VUE based design for their brand new 10,000 sq ft rock performance venue, Delmar Hall in St. Louis's burgeoning Delmar Loop district.
According to Delmar Hall FOH engineer, Tiffany Hendren, the decision to select VUE was easy as, "We started demoing line arrays from five different manufacturers and the second one we heard was the VUE system. After just a few seconds, I knew VUE was the perfect choice, it was clean, clear, warm and loud, just beautiful. Also, VUE's Jeff Taylor was great at bringing in all the options to make our decision even easier as their customer service is insane." Tiffany turned to Logic Systems to design the system featuring a hybrid array of VUE al-8s and al-4s, along with as-418 quad 18-inch isobaric subwoofers for low frequency support. VUEDrive System Engines provide all power and processing for the arrays and subs.
The final design takes advantage of VUE's CST (Continuous Source Topology), which allows different VUE al-Class elements to be seamlessly combined for optimal coverage and reduced weight without the disruptions associated with conventional mixed element arrays. Thanks to CST, Logic Systems was able to easily create left and right hybrid arrays consisting of al-8 compact elements with al-4 subcompact elements providing down fill. The unique configuration keeps weight to a minimum while providing perfect vertical coverage with consistent and uninterrupted delivery of VUE's trademark beryllium voice from top to bottom.
"Due to its unmatched size-to-performance ratio, coverage control and inherent versatility, the VUE al-Class hybrid combination was the perfect fit for Delmar Hall," explained VUE technical sales manager, Greg Kirkland. "VUE delivers all the acoustic performance and control of a far more technically complicated system without unnecessary complexity. Plus, proprietary VUE technologies including Beryllium HF transducers and VUEDrive system engines, streamline configuration and tuning."
The VUE system's versatility indeed enabled a simpler, more elegant installation to preserve site lines while turnkey, out-of-the-box performance compensated for construction delays. Under hangs of al-4 elements beneath the main al-8 arrays delivered seamless near-field coverage and eliminated the need to reserve on stage space for front fills. Finally, the as418 subs fit perfectly inside special in-stage cavities that were necessary to accommodate higher stage height and ramps required under new building codes.
In spite of opening day construction that lagged well past schedule as well as the last minute tweaking time, Tiffany was able to achieve a near perfect output and coverage thanks to a detailed EASE model and VUE's highly accurate performance characteristics. "Engineers typically come in and say, 'Wow, what is this? It's great I barely have to cut anything at all'," explained Tiffany. Everyone from visiting engineers to attendees have universally raved about the system. I even had a recent concert goer post to Yelp, 'I saw Radiohead a few days ago at the Sprint Center and could barely tell the difference in terms of actual audio quality at that massive arena versus this awesome little venue.'"
Based on FOH engineer and audience feedback, it appears Pat Hagin and Joe Edward's vision to establish a new goto live music venue is a reality. Tiffany sums up the achievement quite succinctly, "The VUE system provides all the power and clarity expected in a much larger venue, yet it's an absolutely perfect, beautiful-sounding fit for our intimate room."