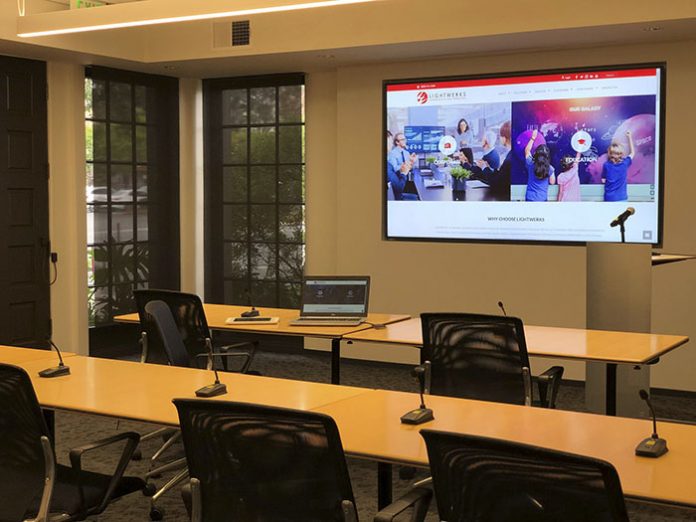 The Harbor Regional Center (HRC) is a private, not-for-profit corporation contracting with the State of California for the provision of services to persons with developmental disabilities. It serves nearly 14,000 people in the areas south of Los Angeles with a range of disabilities, such as cerebral palsy and autism, with an array of needed services. As it goes about its complex mission, HRC executives and managers need to maintain contact with a huge pool of other support organisations and people. To accomplish this, AV systems integrator LightWerks Communication Systems recently installed two Bose Professional ControlSpace EX-1280C Conferencing processors in the HRC's newly renovated flexible conference room. These two powerful processors allow the room to be divided into two separate and fully independent conferencing spaces but also operate as a single integrated processor when the room is used as a single, larger conference space. In addition to its own processor, each space also has its own distributed sound system, with eight Bose FreeSpace ceiling-mounted speakers for one part of the room and six more for the other. These are powered by a pair of Bose PowerShare PS602 amplifiers that, like the processors, can function independently or as a single integrated power source.
"The client needed a fairly large number of microphones in the conference rooms," William Bensley (CTS-D, CTS-I), L.A. Install Manager for LightWerks, explained. "But in addition, these microphones are networked, so we needed a conference processor that could accommodate the Dante network. The Bose ControlSpace EX-1280C processors gave us that, and a lot more."
In fact, the Bose ControlSpace EX-1280C Conferencing processor includes all common audio teleconferencing connections in just one model – USB for soft codecs, VoIP, PSTN/analog telephone, and analog IO for video conferencing connections. It also includes 12 routable acoustic echo cancellers and other new algorithms (the Conference Room Router and conference room combining groups, for example) to simplify setup and reduce troubleshooting time. The three EX Dante endpoints offer unique advantages for conferencing applications, including support for any type of analog conferencing microphone, support for USB to Dante, and easy telephone handset to Dante conversion.
"Getting the microphone sources into the EX-1280C was simple and straightforward, as is managing the conferencing system — the EX-1280C interfaces seamlessly with the Crestron control system we installed," said William, who did all of the programming on the EX-1280C. "All of the users of the rooms are able to access all of the functions easily. And in terms of formats, they can go from software codecs to USB connections to POTS without a hiccup. The EX-1280C was ready to work with it all. We didn't have to go out and buy difference cards to adapt the processor." Furthermore, William said, the transition between the space operating as separate conference rooms and as a single room is totally transparent. "And the FreeSpace speakers deliver clear and intelligible audio."
What's more, this was LightWerks' first encounter with the EX-1280C and, William noted that it was as easy for them to install and program as it is for the client to use. Working with these Bose components was, he said: "an excellent experience all around."