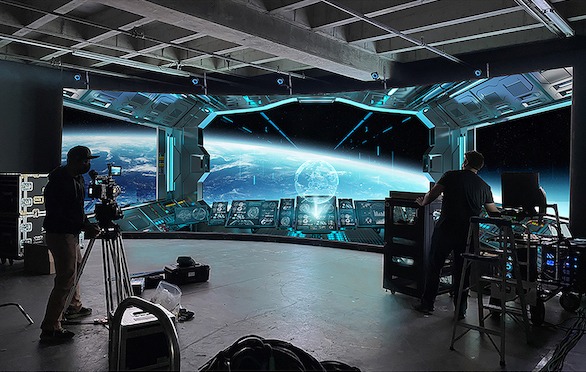 Leyard Europe joined Zero Density on booth 7.B01 and Qvest Media on booth 10.C31 at this year's IBC show at the RAI in Amsterdam from 15th to 18th September.
On the Zero Density booth, Leyard Europe supplied the advanced Venue Pro VX series display for the presentation stage.
This easy-to-install LED video wall delivers exceptional on-camera visual properties and deployment versatility for a wide variety of installations, including virtual production and extended reality.
The displays are an excellent complement to green screens and can be easily implemented into XR stages for extended reality.
The wide colour range, narrow pixel pitches, plus high frame rates provide excellent visual performance in person and in the picture.
In-person viewers can comfortably watch the video wall from as close as 3m without seeing individual pixels, while media viewers feel as if they are enveloped on location by the scene.
The spotlight for IBC is on using multiple cameras. Leyard will team up with Brompton Technology, using its processors to highlight the VP VX series' excellent on-camera performance, even at the high refresh rates needed for multi-camera Frame Remapping typically used in XR/VR applications and will demonstrate what a turnkey solution can look like.
The Qvest booth, meanwhile, features a 4k Leyard LED wall with 1.2mm pixel pitch, demonstrating its ultra HD and low latency broadcast capabilities.
Cris Tanghe, VP Product Europe at Leyard Europe, will be holding presentations at the Zero Density booth on Friday 15th at 14.00, where he shared broadcast environments.
"Joining forces with prominent players in the market such a Zero Density and Brompton demonstrates what a turnkey solution can look like," said Tanghe.
"Using our Leyard VP VX series, we will be showing excellent on-camera performance even at high refresh rates needed for multi-camera frame remapping, typically used in those XR/VR applications."