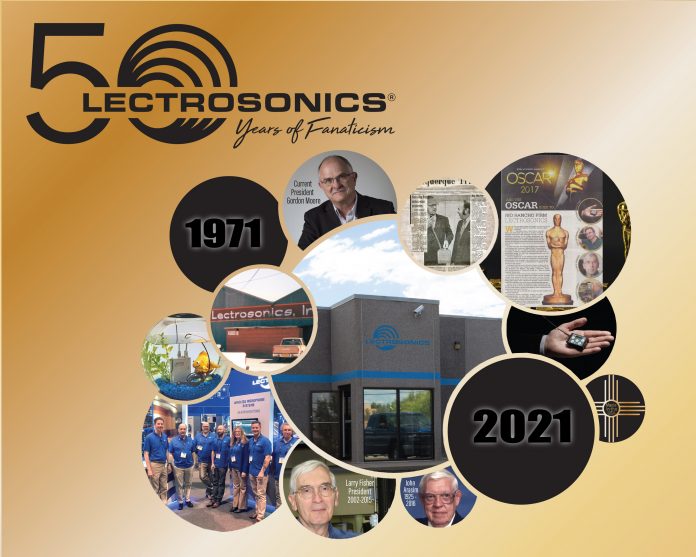 First establishing itself as a voice projector manufacturer and in TV news, Lectrosonics has come a long way since its 1971 industry debut. Inhabiting an energetic attitude and passion for audio, the company is now well respected in various markets worldwide, including: film, music, TV, theatre and sports. Located in the city of Rio Rancho, in the heart of New Mexico, Lectrosonics' focus on quality and innovation has allowed it not only to survive, but to overcome and thrive during a year that celebrated 50 years of business and proved one of the most difficult for the industry.
Karl Winkler, Vice President, Sales and Marketing at Lectrosonics explained how the company approached the challenges of the past year: "During the first wave of COVID-19 back in March 2020, we had to shut down our factory, which then led to our leadership team developing a set of goals and plans to operate safely.
"From there, we developed a good plan of how to deal with certain problems that may arise, but, in terms of business, we saw a huge decline in the middle of March. Obviously, with all live events coming to a halt, that impacted us massively, but we then saw gradual increases in business in the months to follow, but, after the summer, things crashed again.
View this post on Instagram
"However, because of the procedures we put in place, we didn't fall into a trap. We learned to work from home, took online courses and worked on establishing new online connections with our customers. I also have to give our president a lot of credit for being extremely humanitarian and caring so much about the staff. The entire leadership team cut their salaries in half, we were doing everything possible to preserve the company and make sure we kept working. We're still operating today as a result of that, and this also meant that we avoided any long-term damage."
Celebrating a 50-year anniversary in the midst of a global pandemic wasn't something that the company could foreshadow, but, for Lectrosonics, the past year has highlighted its successes and incredible achievements as a business. Beginning its journey back in the early 70s, Lectrosonics was established by two business associates, Tom Gilmer and Paul Auxter, who saw a gap in the market and an opportunity to make audio products of their own.
The company started off by developing voice projectors, with some of the very first models deployed to the Albuquerque Police Department. The product line consisted of several over-the-shoulder portable PA systems and lectern PA systems used by teachers, public speakers and auctioneers, all designed and built at the company's HQ. The philosophy and business plan was simple; 'to build the best product we know how to make, and support it with the best service we can possibly provide' – and this philosophy remains intact today.
"Since the beginning, we have set out to make the best products and support them with the best customer service possible," explained Karl. "We've always strived really high with our product's quality and we're also privately held, which means we're not beholden to the vagaries of the stock market. We have a family feel and an informal culture, which I think is very unique in our industry, too."
As the company began to grow and develop further, it launched its very first wireless microphone in 1975, using a design commissioned from another manufacturer. Soon after, the company began investing in its own engineering resources to improve the performance, and the final design was completed and marketed under the Freedomike trademark. Wireless microphones were readily accepted in existing markets and the product group became key to the growth of the company.
Since the beginning, we have set out to make the best products and support them with the best customer service possible.
During the 80s, Lectrosonics found success in the broadcast market with its plug-in transmitter and compact receiver for electronic news gathering and documentary production. Around the same time, the company's engineering team had begun working on audio processing equipment targeted at the installed sound market. The first product was the MAP – or Modular Audio Processor system – consisting of a card cage design with a variety of automatic mixing, signal processing and logic control modules. The current ASPEN Series audio processors have been installed all over the world in courtrooms, boardrooms, and many other AV installations.
By the late 80s, the company had developed a very high-quality portable wireless system. The CR185 was the first portable receiver only a little bigger than a deck of cards, and it became a revolutionary product for the company. Karl furthered: "This product was high-quality wireless. There was portable wireless around at the time, low grade stuff, but we were different. We're still in the portable wireless business today, it's still at the core of what we do, and I think that goes to show how great our products were and still are.
"When we launched the CR185, news organisations across the US ate it up! We really couldn't build enough of them at the time, as they were so in demand and it totally changed the speed at which news teams could get their information. Long gone were the days of mile-long cable, they could just walk in and do the job as easily as possible."
During the 2000s, Lectrosonics began establishing itself in other industries and installations around the world. Its products proved not only perfect for the broadcast fields, but theatres, stadia and live touring began reaping the benefits of its wireless microphones and digital hybrid technology. "It was a combination of things that allowed us to branch out and start excelling in these other industries," began Karl.
Read the full article in the latest issue of MONDO-DR –