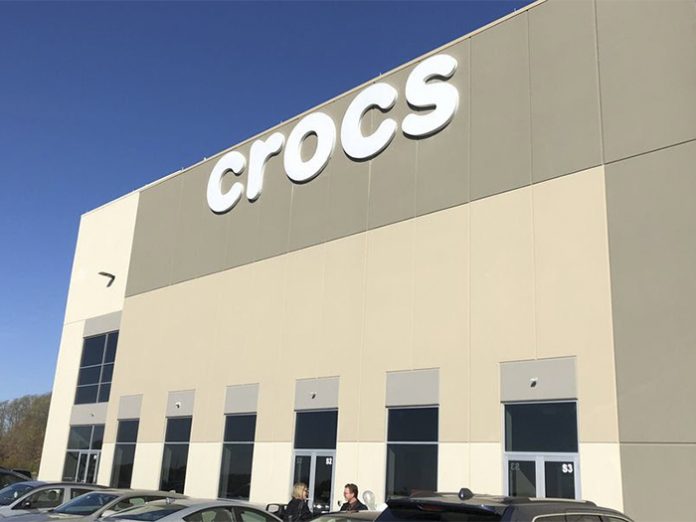 At the end of 2019, footwear giant Crocs made the decision to move its warehouse to a brand-new distribution centre in Dayton, Ohio. At the time, the company had no idea just how its operations would be challenged in the months ahead, or how important the safety and operation of the distribution centre would become as an essential facility. Fast forward to the 2020 COVID-19 pandemic that has impacted every corner of the globe, Crocs took the necessarily steps to install an overhead paging system in its new distribution centre to ensure it was set up for business as usual in a world facing unusual circumstances.
In order to get the system quickly up and running, audio supplier Chapel-Romanoff Technologies (CRT), turned to LEA Professional to ensure Crocs could operate efficiently. CRT was commissioned to provide the overhead paging system for the facility which, at the time, had none. Overhead paging is essential for health and safety protocols, providing emergency weather alerts, shelter-in-place orders and as well as operational directions to employees.
Mark Cohea, Vice President AV Systems at CRT, was first introduced to LEA Professional at Infocomm 2019 and knew that the products would be the perfect fit for the distribution center. CRT used four of LEA Professional's CONNECT SERIES amplifiers including three of their Network Connect CS354 4-channel, 350 Watt units and one of their Network Connect CS352 2-channel, 350 Watt units. All four units include free access to the LEA Professional Cloud Platform, to provide systems integrators with powerful, reliable and secure remote monitoring and control capabilities.
"For this project we didn't need a two-channel amp with 1000 watts but we also didn't want a 10-watt multichannel amp. LEA Professional is right in this sweet spot and provided us with an option for 4 and 8 channels in a single rack space between 200 to 300 Watts per channel," said Cohea.
Getting the distribution centre up and running became more important than ever as the shoe company was in demand by healthcare workers who utilize the comfortable footwear during long shifts. Not only that, but Crocs donated 14,000 pairs of shoes to Dayton Area Hospital Association to distribute through the local Ohio health systems.
Once the installation was complete employees at the distribution centre underwent training sessions on the new system. So far, the feedback has been extremely positive.
"Everyone has been very positive about the system and Crocs has already started discussing replicating it in its other centres," said Mark.
For CRT and Crocs, LEA Professional proved to be the perfect partner, ensuring the project was completed on time with equipment that was both powerful and reliable.
"We will definitely look at using LEA Professional amplifiers again in our upcoming projects, the team there was extremely responsive and easy to work with," commented Mark. "The relationship we have with LEA Professional is the relationship I aim to have with all our manufacturers."