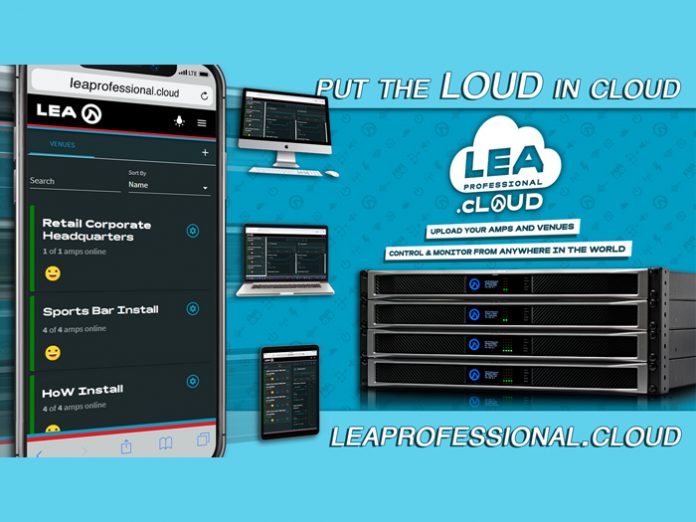 LEA Professional has launched the LEA Professional Cloud Platform —a compelling offering at a time of social distancing and increased demand for remote management. The platform provides systems integrators with powerful, reliable and secure remote monitoring and control capabilities across the entire lineup of IoT-enabled LEA Professional Connect Series amplifiers.
"When LEA Professional was established 18 months ago, we set out to merge elite amplifier technology with the quickly evolving Internet of Things. By partnering with experts in cloud integration, we wanted to provide integrators with new recurring revenue business opportunities and end-users with greater performance, reliability, and feature-sets." said Blake Augsburger, Founder and CEO, LEA Professional. "This platform comprehensively achieves those goals and transforms the pro audio industry and the day-to-day operations of every integrator who utilizes it."
Unique within the industry, all LEA Professional amplifiers leverage the built-in Amazon Web Services (AWS) IoT Core. This cloud platform allows integrators to control and monitor critical operational data points that are integral to maintaining system health securely and remotely. The capability delivers greater visibility and response time which enhances preventative maintenance, simplifies troubleshooting, and cuts down or even eliminates on-site maintenance requirements. All of this together provides a unique opportunity for new recurring revenue streams for integrators to add to their service contracts.
By leveraging a built-in Amazon Web Services (AWS) IoT Core, system integrators can import their Connect Series systems into the LEA Professional Cloud with 256 bit SSL encryption. Once in the Cloud, individual amplifiers or entire venues of amps can be accessed and controlled securely, from anywhere in the world without the need to VPN into a Local Area Network.
"The vision for LEA Professional was built entirely around this cloud platform and we are excited to launch it at a time when the industry is actively seeking this solution," added Augsburger. "We built the cloud platform knowing that it was the future, what we didn't realize was just how soon that future would arrive."
Users can create their own LEA Cloud account and start importing their amplifiers for free by visiting www.leaprofessional.cloud from any web browser.