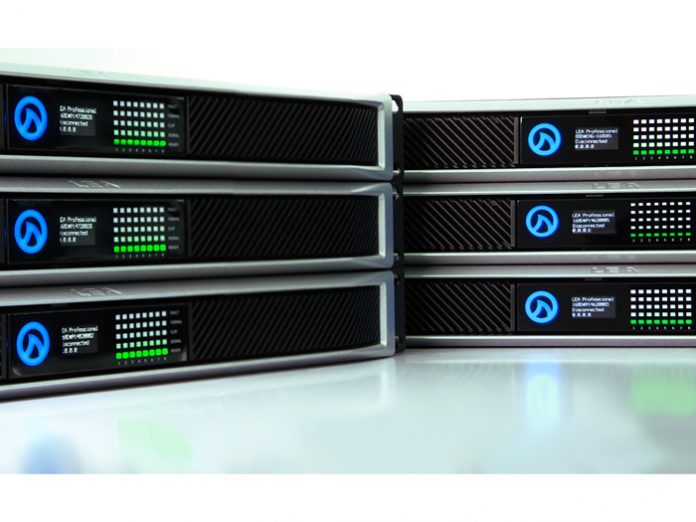 Comprehensively delivering on the promise of IoT-connected high-performance amplifiers, LEA Professional has announced that global shipments of its 160-Watt and 80-Watt Connect Series amplifiers had begun and that systems integrators around the world will now have shortened delivery times for the industry's most anticipated audio product in several years.
"We've already seen tremendous success with our higher power Connect Series models in the market. But the demand for our 80 Watt and 160 Watt models was clear from the beginning." said Blake Augsburger, Founder and CEO of LEA Professional. "Now that these units are shipping, we're excited to see LEA product fulfilling the needs of integrators in smaller-scale settings. And with the recent release of our Cloud platform, now integrators can really offer their clients a truly differentiated amplifier experience."
LEA Professional, the startup turned industry player in amplifier and systems design, is now shipping the eight, low-power models of IoT-enabled, professional amplifiers to provide system designers and integrators simple and cost-effective solutions for professional-grade, small-scale system installations. The new models consist of the Connect Series CS84, CS88, CS164, and CS168 in both Network and Dante. All eight of the Connect Series low-power models are built with fully-routable analog input/outputs, as well as three network connection options: using the built-in WiFi Access Point, connect to an existing WiFi network, or using a Local Area Network Ethernet connection.
Once connected to a network, integrators have access to LEA's new cloud platform, leaprofessional.cloud for remote control and monitoring. Designed and engineered to optimize configuration capabilities and control for integrators, the Connect Series amplifiers also feature DSP with built in crossovers, PEQ, limiters, and load monitoring. The models also feature LEA Professional's proprietary Smart Power Bridge, universal switch mode power supply, and direct LoZ and HiZ selectable per channel in a-one-rack-unit chassis.
The new Connect Series models are compatible with the LEA Professional Web UI and via the cloud platform for control and monitoring. The cloud platform utilizes a built in Amazon Web Servies (AWS) IoT core, which allows integrators to control and monitor critical operational datapoints that are integral to maintaining system health securely and remotely. The capability delivers greater visibility and response time which enhances
preventative maintenance, simplifies troubleshooting, and cuts down or even eliminates on-site maintenance requirements. All of this together provides a unique opportunity for new recurring revenue streams for integrators to add to their service contracts.
"LEA Professional Connect Series facilitate remote configuration, monitoring and system control which enables integrators to support their customers with services that previously required rolling a truck to a customer site," Blake continued. "As such, our amplifiers are making service easier, less expensive and more efficient —critical advantages at this time of unprecedented change!"