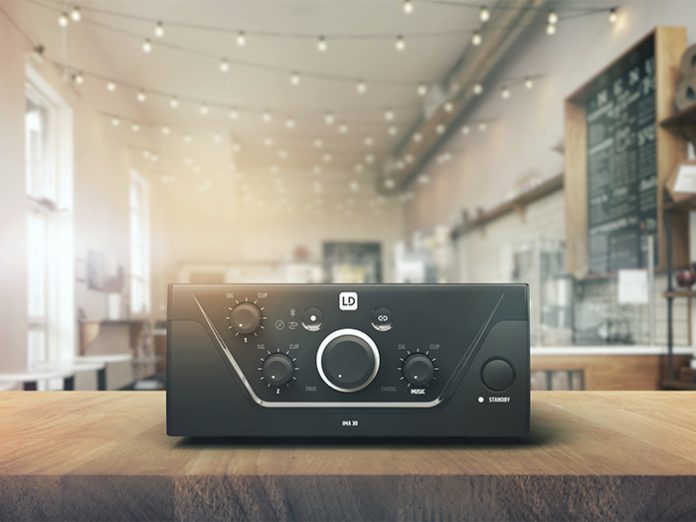 With the IMA 30 and IMA 60 models, LD Systems presents the first members of the new IMA Series, which leave nothing to be desired when it comes to design and flexibility. Thanks to a wide range of input and output options, including a Bluetooth 4.0 interface for the wireless connection of music sources and a multi-level priority circuit, the compact 9.5-inch mixing amplifiers can be flexibly integrated into commercial and industrial applications.
The IMA (Installation Mixing Amplifier) Series includes all-in-one mixing amplifiers for permanent installation in commercial and industrial applications. Both IMA models – the IMA 30, with 35 watts on 4 ohms, and the IMA 60, with 65 watts on 4 ohms — offer four priority levels for emergency announcements, microphone/line inputs and connected music sources, as well as a switchable automatic standby mode.
Both mixing amplifiers have two priority contacts. In addition to the emergency input, which mutes all connected signal sources, the music signal sources can also be independently muted via the prioritized microphone inputs. The outputs offer a dual-band EQ for bass and treble, as well as a 70 V / 100 V tap. In addition, the balanced AUX line output, with music-mix switchover, enables the control of external amplifiers, active subwoofers or systems for standby music.
User-friendly operation is a top priority for LD Systems. Integrators and installers and also end users should be able to easily use the IMA series in day-to-day activities. End users, in particular, will appreciate the intuitive buttons placed in the middle for selecting the music source and for the wireless pairing of Bluetooth players.
The IMA 30 and IMA 60 installation mixing amplifiers are available now.