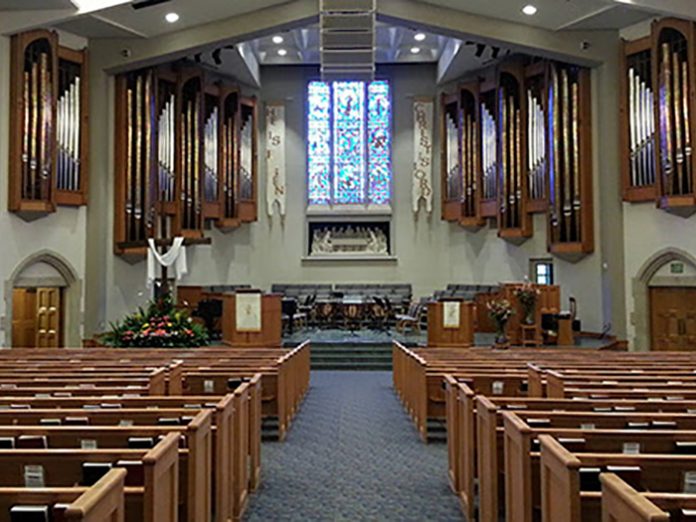 The 100-year-old University Presbyterian Church, located in the University of Washington campus in Seattle is a 100,000 square foot multi-purpose gymnasium used for a variety of contemporary worship events. Jeffrey Blackburn, Director of Media Service, recently called upon the services of TR Professional to redesign the Church's outdated amplifier system network which is now run exclusively on Lab.gruppen D Series.
Larson Hall, a multi-purpose room within the Church, seats 1,200 attendees and is used every Tuesday evening for the Church's College Ministry Outreach Worship Program, which has been active since the 1950's. Over 500 college students are in attendance on these evenings alone and with other ceremonies taking place throughout the week the sound quality had to be on top performance.
Utilising a McCauley line array loudspeaker system, the entire system required a great deal of power, which made the search for new amplification that much more challenging.
"The original amplifiers and loudspeakers were installed 20 years ago," explains Blackburn. "There were more than 30 amplifiers located throughout the entire building, but they were beginning to fail, which sparked our search for their replacements. When Lab.gruppen introduced the D Series it was the first time I saw an amplifier that I thought could get the job done well," adds Blackburn. "It was pretty incredible, two D 120:4Ls could replace eight of the old amplifiers and provide a much higher level of performance. I was sold."
The unique feature of the D 120:4L amplifiers is Rational Power Management (RPM), a proprietary Lab.gruppen technology that allows system designers and integrators the freedom to allocate the output power available on each channel for optimum performance with specific load conditions. RPMTM reduces costly excess capacity by allowing re-allocation of output power capacity among the four channels – with up to two channels on the D 120:4L capable of delivering up to 5,000 W power output, leaving any remaining available power to be allocated to the other channels for less demanding loads.
"I was able to provide the necessary upgrade for under $20,000 – which was very impressive given how much power the system required," Blackburn continues. "Instead of a ton of amps, I have a small rack with amplifiers and processing and because it is so light, I actually fly the amp racks behind the arrays!"
The D 120:4L can be configured and monitored using the CAFE (Configuring Amplifiers for the Environment) software suite. In addition to providing comprehensive system surveillance and configuration of RPM features, CAFE includes an innovative design aid – the Equipment Specification Predictor (ESP) – that provides tools for optimum specification of D Series units. ESP examines the system and load requirements and then supplies recommendations for the installation that include the exact models and quantity of D Series units, channel distribution, heat generated and current draw.  The end result is accurate mains management and precise specification of cooling systems and UPS, when required.
"From an impedance standpoint you can load it with whatever you need," Blackburns adds. "For example, in our situation the HF/MF did not require so much power while the LF needed a lot more. With D Series I could pick a smaller model and expand the LF channel and allocate more power to it while still having power left for the MF/HF. It was extremely easy to allocate the output power to match the speaker's requirements. It is incredibly efficient".
Built in Lake processing provides extraordinary input flexibility, comprehensive control and system monitoring via Lake Controller, and seamless integration into Dante digital audio networks.
"Between repositioning the existing system to maximise coverage and then hanging the amplifier racks behind the arrays, we were able to significantly improve the sound quality and performance of the system," Blackburn concludes. "Our pastors, who don't have much experience with audio systems, have not stopped commenting on much clearer the sound is. The amplifiers control and linearity have had a direct effect on how the older line arrays sound – so much so that everyone is learning how to mix in the room all over again. I also take comfort in knowing I can vary the output of each of the four amp channels. If they need to be modified to work with loudspeaker upgrades in the future, we can do it".