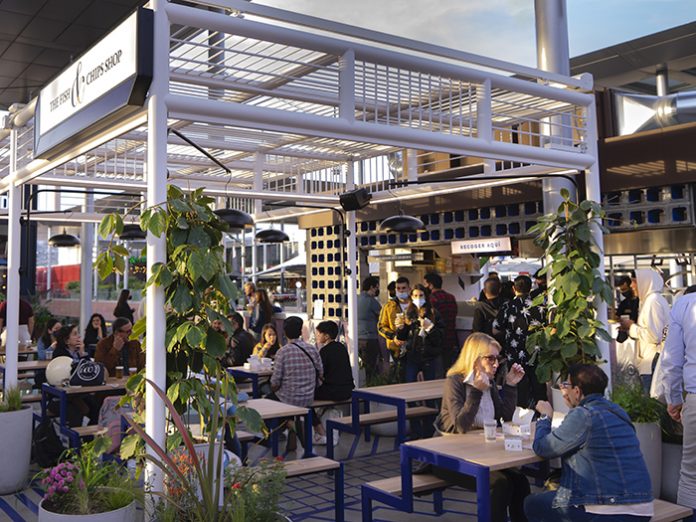 La Citi is not the kind of dining experience you normally expect to find in a shopping mall. The outdoor rooftop space is the newest attraction in Barcelona's popular La Maquinista retail centre. It is a celebration of the city and the wider region's culinary diversity and quality pop-up and food-truck dining, featuring a selection of vendors more commonly found at festivals and in street food markets.  
Downtown, the group behind the creation and management of the 1,000 sq metre experience, represent years of experience and involvement with local food trucks markets and some of the coolest restaurants on the region's culinary scene. Their creation features gastronomic kiosks and pop-up stalls that showcase vendors offering everything from British fish and chips to Asian tapas, paella and mahi mahi burritos, South American barbecue sandwiches, American buttermilk and spice fried chicken, artisan pizza, craft beer, creative cocktails, and much more.
In designing the space, Downtown required a high-quality BGM sound system throughout the site, able to operate constantly 12 hours a day, seven days a week in an outdoor environment. For that they came to Barcelona's loudspeaker manufacturer, Amate Audio, whose very latest G7 premium commercial audio design provided a ready-made solution. Working with Downtown in project managing the installation was Amate Audio's Industrial Designer, Guiu Llusá, who was integral in the inception and design of the G7. 
"The G7 was chosen by Downtown for its exceptional aesthetics and sound quality, as well as ease of installation and the capability of the design to withstand inclement weather," he said. "It is an ultra-compact design that combines the highest standards of robustness and reliability, required of a commercial audio loudspeaker, with levels of sonic performance rarely, if ever, attained with an injection-moulded design."
Exceptional performance in the G7 was attained by meticulous matching of premium custom components within an extensively researched and developed proprietary mould, entirely the work of Amate Audio's design and engineering team, resulting in both a highly advanced internal acoustic architecture and distinctive styling. The resultant output level and frequency response are comparable with larger wood constructed cabinets with considerably larger drivers; resulting in a lesser number of cabinets in an installation and a bass response that does not necessitate the addition of sub bass cabinets.
Coverage of the entire site was achieved with 18 G7 loudspeakers, powered by just two Amate Audio HD4000 'high dynamic' power amplifiers with control from a single LMS608 digital loudspeaker management processor.
Jordi Amate, Head of Sales at Amate Audio, said: "We did not want to come to this product segment with an equivalent product to what is already in over supply from Far Eastern manufacturers. In the G7, we have something else – something that allows installers to offer a better customer experience, that represents the highest quality to performance to price ratio ever achieved with a plastic cabinet."