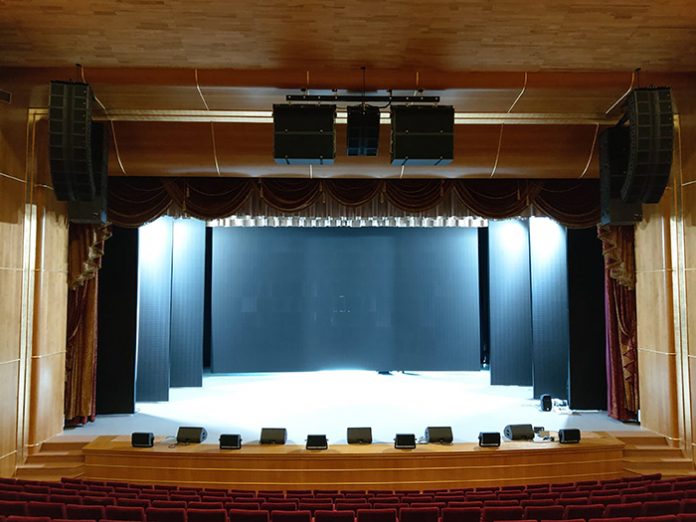 Upon its inauguration in 2007, the newly-built Toratau Congress Hall became an instant architectural icon. Encompassing 14 multifunctional conference rooms, three VIP meeting rooms, a concert hall, a massive, 4000 square-metre exhibition space, and three first-class restaurants, each of the facilities matched the innovative design of the building itself. As time went by, Toratau Congress Hall attracted an increasingly international roster of events and artists, which in turn presented more demanding technical requirements. Venue management realized that the main auditorium would require a new high-end, multifunctional sound reinforcement system. A brief that was easily fulfilled by L-Acoustics K Series and X Series.
Situated in the city of Ufa, the capital and largest city of Russia's most populated Republic of Bashkortostan, Toratau Congress Hall was designed to cater for events ranging from regional civil conferences to touring artists and international summits: most notably the BRICS summit—a gathering of five major emerging economies, comprising Brazil, Russia, India, China and South Africa—and the 2015 Shanghai Cooperation Organization (SCO).
The audio system in the principal concert hall was lacking in sound quality, capacity and flexibility, prompting the venue to enlist the help of Moscow-based experts, Theatre Techniques and Technologies and L-Acoustics Certified Provider Distributor for Russia, Sonoruss. The two companies were jointly appointed to manage the installation of a new audio system, from modelling, specification and design through to installation of the equipment and system fine-tuning.
"Our engineers were charged with designing an audio system capable of managing a spectrum of events from, for instance, a regional senior management meeting or a press conference, to an international summit, or folk, pop, and philharmonic concerts. In fact, a specific requirement of the brief was that the new sound reinforcement system should comply with the riders of international touring artists. The new system would also address problems with poor speech intelligibility and uniform coverage of the hall, which the current system was struggling to deliver," explained Igor Novikov, Technical Director,
Sonoruss.
At the heart of the design brief, an L-Acoustics Kara IIi loudspeaker system was selected for its professional reputation, exceptional sound quality and flexible configurations. The process began with Sonoruss engineers evaluating the hall space, performing electro-acoustic measurements and building a 3D model of the project in L-Acoustics Soundvision software, an essential part of any L-Acoustics system design workflow, in order to devise the correct audio solution for the room.
Theatre Techniques and Technologies and Sonoruss specified eight compact, lightweight Kara IIi cabinets to cover left and right output channels, in combination with four SB18i subwoofers per side. The SB18i flown subs were installed in cardioid configuration to avoid excessive low frequency feed to the stage. Four more Kara IIi cabinets provide dedicated sound coverage to the front few rows that are in a listening black spot in the main feed. Four SB28 subwoofers were installed as the central cluster. The pit and under-balcony zones are covered by five compact X8 cabinets positioned across the stage lip. Finally, additional down-fill arrays of X12 are installed under the left and right portals at artist level on stage to complete the audience's sound experience.
"The biggest challenge of this project was the deadline for its implementation, as work needed to be completed as swiftly as to fit in with the venue's busy calendar. Astonishingly, supply of the products, cable routing, installation and final commissioning of the works was completed in only 20 days," concluded Igor. "The end result is exceptional. The L-Acoustics system has provided uniform sound distribution in every seat of the hall, with high levels of speech intelligibility and SPL, natural sound from musical instruments, and user-friendly control. The Congress Hall team is thrilled with the outcome, and the project has delivered exactly what it set out to do. Thanks to L-Acoustics, Toratau Congress Hall has finally evolved into a modern, multifunctional space that meets the technical requirements of a high-level venue."