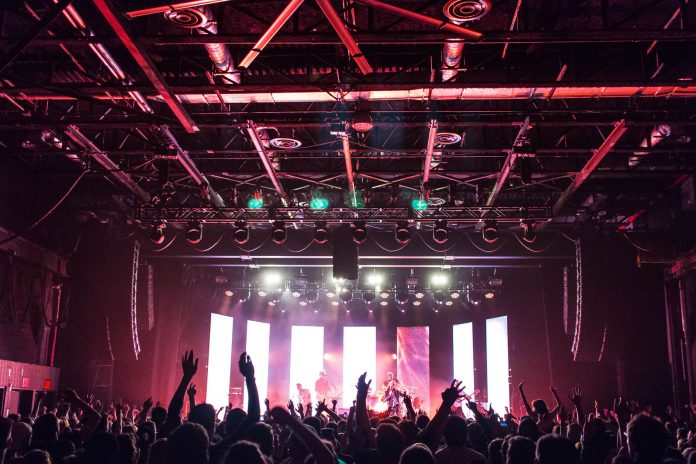 Leading New York City-based national concert promoter The Bowery Presents (TBP), recently opened its latest live music venue, Brooklyn Steel, a new 20,000 sq ft space in East Williamsburg, New York that is outfitted with L-Acoustics K2 line arrays, plus delays and stage monitors. A gantry crane retained from the former steel fabrication business enables the flown arrays to be repositioned, along with the movable 50,000 pound steel and concrete stage, to scale the audience area according to the expected attendance at each show.
TBP's in-house team designed and installed Brooklyn Steel's L-Acoustics loudspeaker system which is patterned after a similar rig at Terminal 5, a 3,000-capacity venue in Manhattan that the promoter also exclusively operates. Mark Friedman of Long Island City-based See Factor supplied the speaker setup as well as the rest of the new club's audio complement, including a 56-channel DiGiCo SD10 console at front-of-house with a 56-channel SD9 available for monitors. A three-way copper split accommodates tours traveling with their own monitor rigs as well as recording and broadcast feeds.
"Having worked with The Bowery Presents on numerous venues over the years, See Factor's first choice of L-Acoustics and DiGiCo is a solid combination that has firmly built our fruitful relationship of trust with the promoter," Mark notes. "The Bowery Presents has always recognized the value of providing the highest quality production infrastructure available to best enhance both audiences' and bands' overall live experience."
"Terminal 5 didn't start out having the best reputation for great sound but once we installed the K2 system it turned around to where engineers love mixing there," says Lorne Grabe, front-of-house engineer at Terminal 5, where he collaborated on the design of the sound system with production manager Chris Burrows. "We wanted to achieve the same thing at Brooklyn Steel right out of the gate."
For Brooklyn Steel, which at 1,800-capacity is the largest general admission space in the borough, Lorne specified a rig that mimics the latest Terminal 5 system almost box for box. The main left and right hangs each comprise 10 K2 array modules, two less per hang than at Terminal 5 while four Kara boxes provide front fill. K2's Panflex horizontal steering feature nicely allowed the main arrays to be flown on the outside of the stage, close to the walls, yet keep the coverage tightly focused on the audience area.
Four K1-SB subs flown behind each array provide low frequency extension with the added benefit of noise reduction on the performance area while eight KS28 subs are distributed beneath the stage. "The KS28s are in a cardioid configuration with the center two flipped around, to keep too much energy from firing back onto the stage," he says. "I come from a theatre background," continues Lorne, who circled the globe as a touring engineer and also previously oversaw operations at Masque Sound's concert division. "So I also gave Brooklyn Steel a center cluster of six Kara that engineers can put the vocals in and get more three-dimensional depth from the system."
The venue features a raised audience platform toward the rear of the space plus two balcony levels. "There are eight ARCS WiFo boxes for delay, six for the second balcony and two under the first-floor balcony," Lorne reports. Onstage, Brooklyn Steel offers visiting performers a monitor rig comprising 13 L-Acoustics X15 HiQ wedges, two ARCS WiFo cabinets on each side for sidefill, plus six SB18 subs for sidefill and drumfill.
Three LA12X amplified controllers drive the center cluster and KS28 subs and a total of 25 LA8 amplified controllers, more than at the larger Terminal, power the remainder of the system. Each LA8 drives two boxes, affording a granularity that enables the rig to be fine-tuned for each position, as Lorne explains. "We have a little bit of delay timing whenever we move the rig, so we have a lot more FIR channels than at Terminal 5. It's not really there for power, it's there for finesse and for getting a nice mix."
Overall, he adds, "There's enough system there for the engineers who come through to be comfortable. We're not pushing it, the rig sits around 70% which also means the rig is really going to last. They're not going to go through any drivers and they're not stressing anything."
The Bowery Presents launched in 1993 with New York's 250-capacity Mercury Lounge and now produces more than 2,000 shows a year at over 20 exclusive venues nationwide. "The Bowery Presents has always made sure that their venues sound good as it's really important to them," says Brooklyn Steel production manager Evan Player, who has worked for the company for almost 10 years, previously at the Music Hall of Williamsburg and Rough Trade NYC. "It's nice to work for a company that cares that much, because it really does pay off in the user experience."
The remote-controlled gantry can reset the line arrays to three different positions but thus far has been used only in its fully upstage or fully downstage locations, a difference of about 10ft, says Evan. The lighting trusses move separately on newly-installed steel I-beams. "When we do the move which is typically at the end of the previous show's load-out, we're able to do it with just four people," he reports. "That's more for spotting and making sure the cables are clear, not muscle, so it's a very labor-friendly effort."
For smaller shows, Evan adds, the venue may close the balcony. "We have this great general admission floor, the balconies don't intrude on them and everybody gets great sightlines. The PA is perfectly set up for that."
At Brooklyn Steel, the promoter's attention to detail extended to acoustic treatment and sound control implemented in consultation with Arup Engineering. "We had to be able to contain the audio with the volumes we need inside and be compliant with New York City code on the outside," says Scott Raved, TBP's point man on all its construction and renovation projects.
"The best solution for roof containment was a green roof which allowed us to go higher than code so that we could incorporate a sizable air gap. The mass of the green roof, coupled with the air gap is sufficient to contain that low end." Windows along one wall facing nearby residences were replaced with concrete-filled blocks, he adds. "We did a decent amount of interior acoustic treatment, too."
"I spent about a year with L-Acoustics' prediction software, Soundvision, tweaking it and going back and forth with Scott, working out where the stage and the gantry crane were going to be," says Lorne. "It's a beautiful venue, and set up perfectly."
Brooklyn Steel was scheduled to launch on April 12, 2017, with about 30 shows announced, including The Decemberists, PJ Harvey, Chairlift, Goldfrapp, Whitney, Mitski, Tycho, Slowdive, The Jesus and Mary Chain and others. "We opened a week early," says Scott. "A couple of days before we announced five nights of LCD Soundsystem—they sold out instantly. That was a pretty exciting way to open."