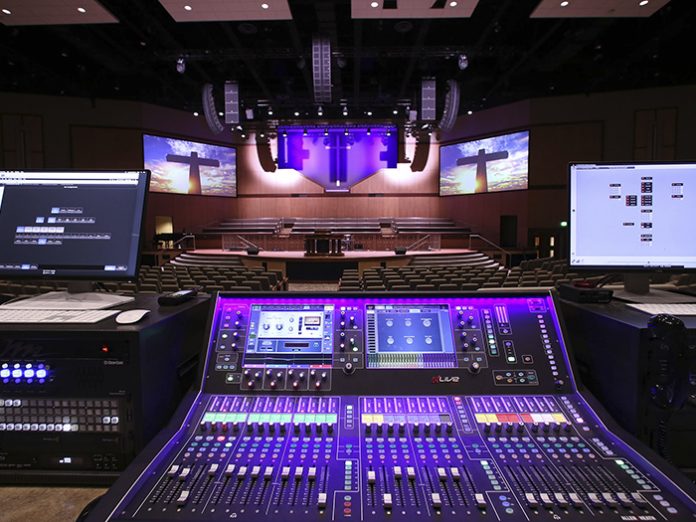 Franklin Avenue Baptist Church has been a mainstay of the community since its founding in the mid 20th century. It even withstood the apocalyptic Hurricane Katrina in 2005, moving back into its repaired 8th Ward sanctuary soon after the waters receded.
But the growing church was straining the bounds of its longtime home on Franklin Avenue, and last December moved into a brand new building on a 25-acre lot a short ride to the east of their original location. The $35 million, 126,000-square-foot sanctuary topped by a 132-foot sky-blue tower now also has a new PA system that fills the new 3,500-seat venue with true musical joy. Nashville-based AV systems integrator Mankin Media Systems designed and installed the L-Acoustics long throw Kara system.
The church's new Kara sound system consists of three hangs of 11 Kara boxes each. Low end is supported by six floor-stacked KS28 subwoofers plus arrays of four SM18i subs flown next to the left and right Kara hangs. Two short throw X8 extended-bandwidth loudspeakers provide front fill, while a pair of medium throw ARCS Wide speakers flown behind the SB18i serve as choir monitors. A dozen LA4X and two LA12X amplified controllers power and process the entire system.
"The challenge was the sheer size of the new sanctuary, which also has a 175-seat choir loft and massive stage with a thrust and an orchestra pit," said Mankin Media President and Founder Ben Mankin. "But the Kara loudspeakers were the perfect solution. The curve of the line array perfectly follows the rake of the seating, the throw of the Kara is excellent for distance in a large church, and using Soundvision software—which we use for everything—we were able to design and tune the system to cover every seat in the venue within less than 2 dB of any other seat."
Ben added that the Soundvision files are able to illustrate clearly, accurately and unambiguously to end users how the sound will propagate in any given space, which is a tremendous help in the house-of-worship market, and also provides a precise plan of action for technicians on site.
FABC A/V Media Director Jestin J. Quiett also saw the potential for the church's long term in the new sound system. "Moving from the old building to the new building is night and day," Jestin commented. "The technical tools we have now can help us grow for a long time, and the new audio system is amazing. There's not a bad seat in the room."
But the Kara system was also able to give this reborn church the "thump" it wanted. "This was quite a step up in the kind of space they've been used to, and they wanted a sound system that could provide real impact," said Ben. "In fact, after hearing the new system one of the pastors said, jokingly, 'We'd better get some new singers, because everyone is going to hear every note through this sound system.' I understand what he meant, though: the L-Acoustics sound system lets you hear every nuance of what's coming from the stage. For a church with a message, that's just what it needs."