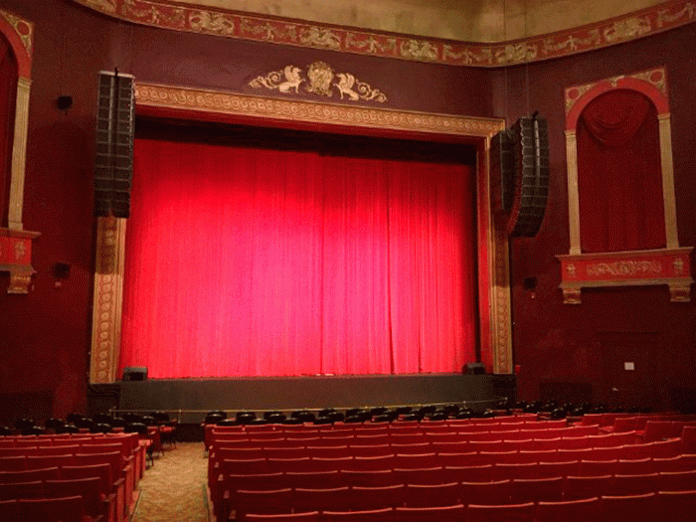 The Bergen Performing Arts Center (BergenPAC) a non-profit theatre in Englewood, New Jersey has seen and heard it all. Originally built as the Englewood Plaza movie theatre in 1926, the venue re-opened, after several iterations, in 2004 with its 1,367-seat auditorium hosting 200 shows a year by a diverse roster of performers, including Tony Bennett, Aretha Franklin, Diana Ross, John Legend, Jerry Lewis and Willie Nelson. The facility is also home to dance, theatre, voice and music classes offered year-round at The Performing Arts School at BergenPAC.
Throughout its most recent existence, the venue has rented PA systems for major shows, but as of June, BergenPAC is now a self-sufficient venue featuring its own L-Acoustics Kara sound system designed and installed by Boulevard Pro, a leading NYC metro area audio systems and backline provider supplying L-Acoustics systems for over a decade.
"With Kara we're able to more than adequately fill the region's largest theater spaces for any kind of music performance," explains Anthony Cioffi, who with his brother, James, has owned Ridgefield Park, New Jersey-based Boulevard Pro since it opened in 1986. Thus, it was the perfect solution for BergenPAC, which Boulevard Pro has been working closely with for years as the SR and backline provider.
James Cioffi commented: "We have a long history with BergenPAC and have been a supplying our Kara rental system there for the past couple of years. Being intimately familiar with the space and the customer's needs, when they planned a capital improvement that included a sound system, Boulevard Pro and L-Acoustics Kara were the obvious choice. Having had many experiences with Kara, BergenPAC knew that its form factor and output were a perfect match for the room and that its rider friendliness was equally important."
The venue's new Kara line array system is comprised of 13 Kara boxes per side, with four SB18 subs per side flown behind the arrays. L-Acoustics 8XT are installed as front and under-balcony fills, and 16 self-powered 112P coaxial modules are deployed as monitors, which is something James noted they have more of out on rental than any other model in Boulevard Pro's 200-plus L-Acoustics enclosure inventory. Four LA8 and three LA4X amplified controllers power all of the theatre's new PA system components.
The Cioffis' familiarity with BergenPAC was fortunate because the project had a tight deadline. The new sound system had to be in place in time for the venue's Spring Gala event on June 7 featuring Ringo Starr and His All-Starr Band. The system was then set up within an impressive 9 hours.
James concluded with the following: "We built the amp racks off-site and came into the venue with L-Acoustics Consultant Vic Wagner to do the system calibration, and with BergenPAC Technical Director Joe Feola and CEO Dominic Roncace, who made sure that everything was ready on the venue's end. It went smoothly and now it's a tight-sounding room.
"So tight, in fact, that Ringo Starr commented positively on the sound quality from the stage, both at sound check and during the show. When one of the Beatles likes the way it sounds, you can't ask for anything more."
https://www.l-acoustics.com