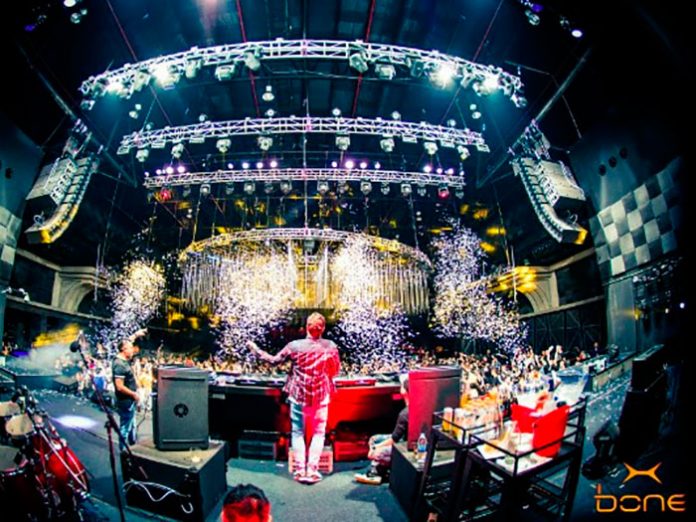 Popular with tourists worldwide, Pattaya is home to some of the most renowned nightlife in Thailand, as a result of which venues need to deliver the best quality entertainment to ensure they stay ahead of the pack. L-Acoustics pulled out all the stops to ensure that Bone, a brand new nightclub and live venue, would enjoy optimum sound quality.
Tanapat 'Tony' Mongkolkosol of Vision One, L-Acoustics' Thailand distributor, first became aware of the project in 2014. Along with the local representatives of three other leading audio manufacturers, it wasn't until a year later that Tony was invited to submit a design for the club's audio system – and he was given just three days.
"When I first heard about the plans for Bone, I invited the owner to see our L-Acoustics installation at Siam Pic-Ganesh Center of Performing Arts, which he was very impressed by," said Tony. "When we were later invited to tender for the new venue, we were given ACAD drawings and were asked to design a system that would fulfil his requirement of 110dB maximum SPL evenly throughout the 40 x 50 x 14m area."
With no time to spare, Tony sent his initial designs to L-Acoustics application specialists in Asia and France to consider and offer advice. "Faced with such a short deadline, I wanted to be sure that I was offering a comprehensive proposal in time," he continued. "Everyone at L-Acoustics pulled together to help ensure we were making the right proposal. Alvin Koh in Asia re-drew the venue in 3D on a Sunday night and the whole team in France worked to validate the designs so I knew that what we were proposing to Bone was the best system for their needs. I believe this was key to winning the contract. As well as submitting high quality 3D simulations with details of all the equipment and data sheets, we were able to provide two quotes – one for a system using K2 and the other Kara. The client was very impressed with our professionalism. He knew that we would deliver a great solution."
The client chose K2 system due to the increased headroom of the system. It comprises a main L-R PA of nine K2 and three K1-SB per side, driven by four LA8 amplified controllers, plus four SB28 per side driven by another LA8. Four ARCS Focus, driven by an LA4X amplified controller, are installed as front fills.
Nine X15HiQ and an SB18m are installed for stage monitoring, with a DJ monitor system comprising two ARCS Wide and two SB18m. All monitors are powered by four further LA8.
"We worked very closely with Bone's owner throughout, including the design of the room's acoustics," said Tony. "He has been impressed with L-Acoustics throughout the project, from the design right through to the installed system's audio quality. Being able to deliver that extra level of service has been so important – even down to a tiny concern about a subwoofer having to be too close to the side wall being corrected by the L-Acoustics application specialist during tuning and calibration.
"As a result, the owner is really happy and we believe Bone is the best sounding club in Pattaya."