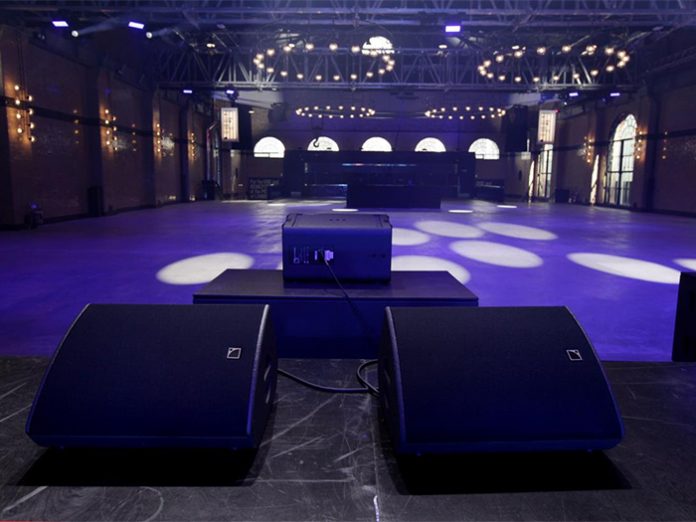 The recently launched Exhibition London event space is situated in the heart of London's White City and Westfield London, one of the capital's premier shopping destinations. This multi-purpose venue is housed in a stunning Grade II listed building built in 1899 and originally used as an engine house for Central London Railways. A complete renovation of the space combines sensitive architectural restoration with 21st-century technology, which features an L-Acoustics K Series loudspeaker system, to help establish the new space as a major music venue and cultural hub.
The venue is a collaborative venture between Unibail-Rodamco-Westfield and Broadwick Live, operators of Printworks London, The Drumsheds, Depot Mayfield, and Magazine London, which also boasts an L-Acoustics sound system. Both Magazine and Exhibition audio systems were designed by Simon Jones of Simon Jones Technical Production Management (SJ-TPM Ltd) with assistance and integration from HD Pro Audio and design support from L-Acoustics.
Spanning two floors and a total of 1,271m2, Exhibition London features a ground floor foyer and reception area, which can also be used as a breakout area for corporate events and small conferences. The foyer offers direct access to The First Floor staging area, where the original high-pitched ceiling and its exposed roof structure, polished concrete floor, brass finishes, and decorative lighting create a stunning environment for both live music and corporate events.
The original project brief emphasized corporate events, and Jones once again looked to Kara to fulfil the venue's needs. But as the project evolved, music became the priority, and the larger format K2 became a serious option. "The First Floor is a 3,000 capacity multi-purpose space, and with the focus now firmly on music, it needed a rider-friendly PA that would also be good for corporate events," states Jones. "We needed a left/right system and delays that would be beefy enough for full-on rock but delicate enough for speech."
"The whole ethos behind choosing K2 is to meet the demands of touring engineers and offer the industry standard, so there would be no question of bands not using the house system," adds HD Pro's Andy Huffer.
The First Floor features an array of nine K2 per side, with five pairs of KS28 subs ground-stacked along the front of the stage. An A10 Focus is placed on top of each KS28 for frontfill, for which HD Pro has made custom mounts. Sidefill is catered for with stacks of two A15 and two KS21 while twelve X15 coaxial wedges are available for stage monitoring as needed. Two pairs of A15 are flown as additional delays/fills halfway down the room.
"The main PA is more than capable of covering the entire space, but for corporate speech applications these fills allow us to get more detail at the back of the room without exciting it at the other end," says Huffer. "This is essential for vocal clarity."
For the foyer's rectangular space, compact X8 was chosen for its full range, high SPL, premium sonic quality, and excellent detail. Eight X8 are permanently flown, four at each side of the room and facing in to provide even coverage. These can be augmented with four portable SB15 subs if more bottom end is needed. Cabling has been installed throughout the area's evenly spaced steel columns so that the SB15 can sit at the base of any column.
Amplification and control comprise two P1 AVB processors, one for the First Floor and one for the foyer, along with nine LA12X amplified controllers for the K2, an LA4X for the A15, and 13 LA4X for the remainder of the system, with portable racks for the monitors.
"Our primary challenge was that this is a tiled Victorian building, so it's quite reflective," says Huffer. "The First Floor, in particular, has lots of big, long shiny surfaces facing each other. Some acoustic draping is used, but we did not want to hide all the beautiful tile. Having K2, with its variable directivity, allowed us to optimise the system, keeping sound on the audience and off the walls. This, in conjunction with a complete grid system flown from the crane beams, gave us more rigging options."
As well as providing design support in the planning phase of the project, Jeff Woodford, Application Engineer Install at L-Acoustics also provided on-site acoustic measurement and electronic optimisation, calibrating the sound system to give the best performance throughout Exhibition.
With optimum flexibility of the system also a prime consideration, two DiGiCo SD12 consoles with Dante cards and Optocore sharing an SD Rack with 32-bit cards and an SD11i with D Rack are provided as the control package. "These are also an industry standard and make the venue a desirable proposition," notes Jones.
Adding to the system's flexibility, a comprehensive fibre network was installed, linking the front of house and monitor systems upstairs and down, allowing audio to travel to and from any area. The network also allows the DiGiCo consoles to be moved to different areas, as required. "We've installed simple touchscreen panels for controlling volume, etc., throughout the venue," says Huffer. "This means things can be changed quickly and easily to go from, for example, a stand-alone system for live music to distributed background music from someone's phone."
"Both HD Pro and L-Acoustics have been exemplary in their design, support, and commitment to the project," adds Jones. "The system sounds really good. I've done a lot of PA systems, but even I was surprised at just how good K2 sounds in here. It has exceeded my expectations, and it looks good, too, which is so important in a setting like Exhibition London."
"It was fantastic to work with L-Acoustics on Exhibition London, the K2 system installed is superb in every way and gives us maximum flexibility in terms of the types of events that are produced in this beautiful Victorian venue," concludes Bradley Thompson, Managing Director Broadwick Live.