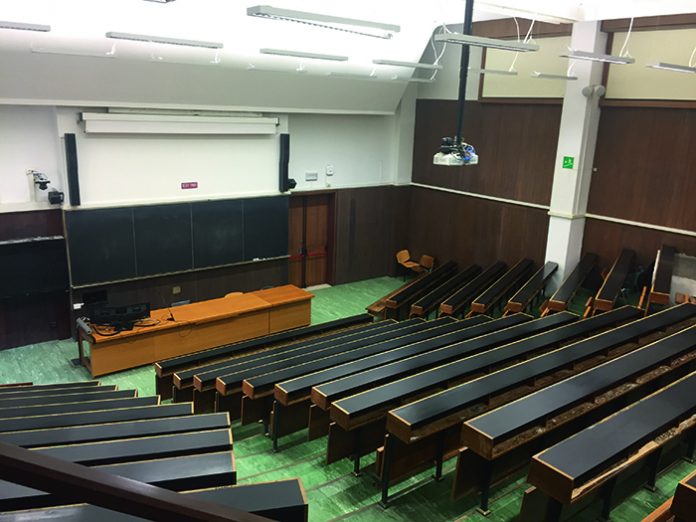 Founded in 1088, the University of Bologna is the world's oldest continuously operating university, and one of the leading academic institutions in Europe. However, both students and professors were having difficulty with speech intelligibility in some of the teaching rooms. A solution needed to be found that could resolve this issue yet leave the historic architecture of the building untouched. Sisme, L‑Acoustics certified distributor provider for Italy, was sure this could be achieved by installing L-Acoustics' Syva colinear system.
"The acoustic discomfort being experienced in the rooms was because of the overly reverberant characteristics of the building," explained Sisme's Technical Manager, Andrea Guerranti. "Achieving perfect intelligibility without interfering with the historic architecture of the building required careful consideration."
Sisme has a strong connection with the engineering and acoustic departments of the University. Initial studies with microphones and Syva in a smaller classroom validated proof of concept. Engineers Dario D'Orazio and Giulia Fratoni from the University's Department of Industrial Engineering also looked at the acoustic properties of the rooms and what could be done using a combination of acoustic treatment and Syva, which they knew would improve the speech intelligibility in each row of the classroom by guiding the sound towards the audience area.
"Rather than use a traditional line array, we decided to look at using L‑Acoustics' new Syva system," said Andrea. "We knew that its extremely high sound quality, long distance directionality and high levels of intelligibility would significantly improve perception of the spoken word, making the classrooms suitable for the teaching activities they were designed for, whilst following the necessary guidelines of the regulatory framework regarding acoustic conditions suitable for teaching. But more than that, it would not adversely impact the architecture of the building."
Engineer Dario designed the Syva systems for three of the university's classrooms, two of which are of an auditorium style with raked seating and can accommodate between 200 and 300 students, whilst the third holds around 100 students and has a flat floor. Syva's wide, 140° horizontal dispersion delivers great coverage across the rooms, whilst its narrow, 26° vertical dispersion allowed the designer to focus the sound into the classrooms and keep it off the reverberant hard surfaces, which greatly improved the overall levels of intelligibility.
In addition to the Syva loudspeakers, the new system also incorporates L-Acoustics 5XT, positioned either side of the Syva, in the two larger rooms. These discreet loudspeakers are used as front fills to cover the first row of the classrooms.
"The results are fantastic. Syva has made a huge improvement," said Andrea. "In fact, the results have been so impressive that engineer Dario is working to publish an article on the installations."