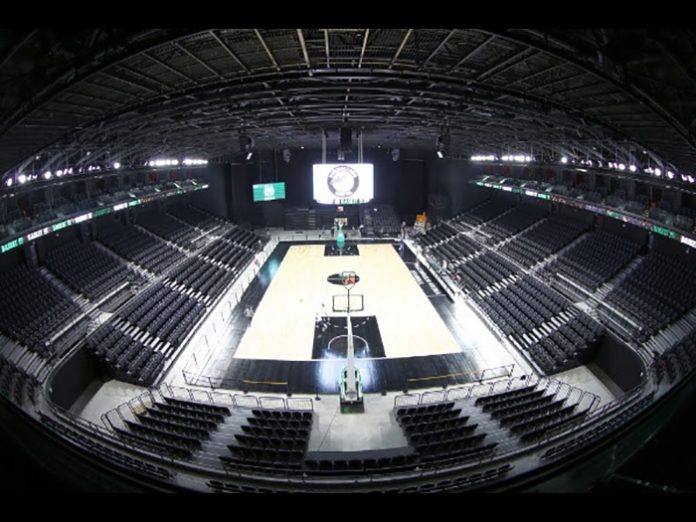 With its long history as the meeting point between Asia and Europe, Istanbul has always been a vibrant and cosmopolitan centre of Turkish entertainment and culture. Recently L-Acoustics was chosen to deliver high quality audio in two of the city's most prestigious new venues.
Opened in 2014, the Volkswagen Arena is a multipurpose venue which was built with the mission of giving Istanbul audiences the best entertainment experience possible. Primarily hosting live music and sports events, since 2015 it has been the venue for the Turkish Airlines Euroleague matches played by the city's Darüşşafaka Doğuş basketball team.
Because of the venue's busy programme of events, the change from an end-on concert hall to in-the-round basketball arena and back had to be possible within a day, yet needed to deliver the most comfortable and enjoyable spectator experience for basketball fans. Elit Light/Sound Technologies was chosen to design and supply the technical infrastructure, which included portable telescopic bleachers to allow match audiences of up to 5000.
A bespoke audio system was required for announcements and playback at matches, for which Elit chose L-Acoustics. Maintaining sightlines for all seats was a priority, so six arrays of L-Acoustics ARCS Wide and ARCS Focus constant curvature line source loudspeakers, plus SB18M clusters, were flown from the venue roof. With an L-Case placed on top of each speaker tower to afford additional protection for the LA4X amplifier controllers that power the system, this neat solution delivers seamless, high quality audio to all seats.
Elit Light/Sound Technologies also chose an L-Acoustics audio system for Babylon, a leading Turkish digital arts and culture organisation owned by live entertainment marketing company Pozitif Live, which runs three venues – Çeşme, Kilyos and the new Bomonti, a music, theatre and cinema venue created in Istanbul's restored Bomonti brewery.
Designed as a 'creative cultural campus', the brief for Bomonti's audio system was to deliver exceptional sound reinforcement, but not to aesthetically detract from the building's historic internal fabric. Elit chose an L-Acoustics system comprising flown ARCS Focus and ARCS Wide, with floor-stacked SB28 subs plus 5XTs for fills. Stage monitors comprise L-Acoustics P series 112P and SB15P self-powered loudspeakers.
"ARCS WiFo is the right choice for us, allowing us to provide a consistent sound level for the entire audience," said Ozan Murat, Technical Production Manager and Sound Engineer for Pozitif Live. "As with previous ARCS products, ARCS WiFo delivers high power for medium throw applications. But the most important feature of WiFo for me is its musical detail and outstanding dynamics for all genres of music. This makes L-Acoustics the only choice for us."
"L-Acoustics WiFo has provided excellent solutions for two very different venues," added Elit's Emre Defne. "The ease of set up and surprising power of this compact system make it extremely versatile. In fact, we have had very good results with WiFo in every type of venue we have worked with; it can solve any medium throw venue needs."