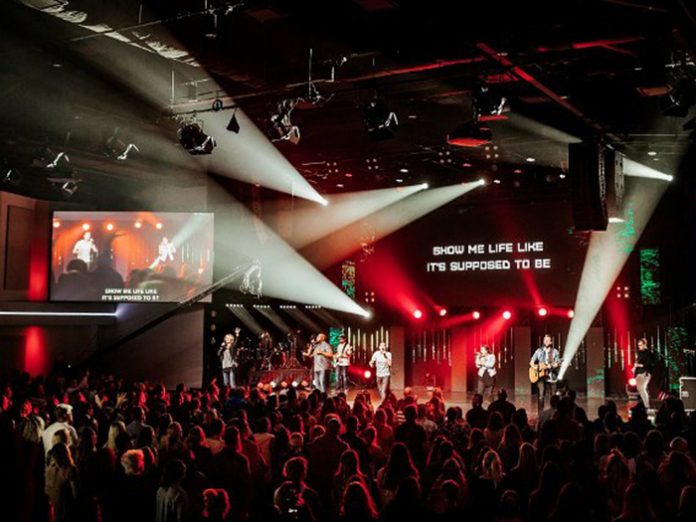 First established in 2014, Action Church is one of Florida's most rapidly expanding faith communities. The nondenominational Orlando area church is now at four locations and experienced an astonishing 150-plus-percent growth between 2017 and 2018, less than four years after it was founded, catapulting it to the number-two position in Outreach magazine's top 100 fastest-growing churches last year.
Lead Pastor Justin Dailey's vision for the church includes having a consistent sonic experience between the church's satellite locations, and thanks to the recent installation of L-Acoustics sound systems in two of them, they are well on their way to achieving that goal. Parrish, Florida-based Crown Design Group, an L-Acoustics Certified Provider for installs (CPi), designed and integrated a Kara(i) long throw system in the church's main Winter Park location as well as an ARCS WiFo medium throw system for its smallest, in Sanford.
"L-Acoustics offered the best selection of solutions for different locations with different sound reinforcement requirements at a price that met the church budgets, without compromising quality," said Crown Design Group Co-owner Garrett Walker, who noted that both locations are existing buildings that were renovated, and thus had very different and challenging acoustical characteristics. The Winter Park property was previously a Masonic Lodge, among other things, with highly reflective concrete walls—a challenge easily resolved by Kara's deft ability to keep the sound tightly focused on the seats.
"The quality of the sound during the worship service is very important to them, but so is the idea of having a consistent experience no matter which location you worship in," Garrett described. "With L-Acoustics, we had the ability to pick systems that would be scaled to each location's size and shape, but also knew that we'd have a consistent sound from room to room. That's important when you're trying to build a church brand across multiple locations, as Action Church is doing. Whether you're in the Winter Park location, where the lead pastor is preaching, or in the Sanford location watching on video in real time, you know you're getting the same sound, the same worship style and the same experience."
Action Church Worship Director John Williams agreed, adding that the sound in the two church locations is now so good that "I get calls telling me that we have the best-sounding room in all of central Florida," he said proudly.
The desire for consistent sonic quality across all of the locations means that, when the time comes, Action Church's two remaining locations, in nearby Winter Springs and Oviedo, will also have new L-Acoustics systems installed. "When we're ready, we'd like to take those locations to the next level, too, with L-Acoustics sound," he said.
John further pointed out that Kara's compact form factor and resistance to feedback has solved another problem; keeping the sightlines to the two video screens flanking the centre stage meant that the arrays have to be hung as much as three feet upstage. "We had been concerned about possible feedback from having the PA in that position," said Garrett. "But L-Acoustics guaranteed us that there would be absolutely no feedback and they were right. We've had people holding microphones over the lip of the stage without any problem at all."
The Winter Park location's L-Acoustics system comprises eight Kara(i) loudspeakers per side in the stereo system for the church's 1,000-seat sanctuary. Each Kara hang is backed by three flown SB18i subwoofers in a cardioid configuration, keeping the entire bandwidth of the system focused on the seating area to assure intelligible speech and full-impact music. In addition, four ground-stacked KS28 subs reinforce the system's low end, with four short throw X8 speakers used as frontfills and two more used as monitor wedges on stage. Seven LA4X and one LA12X amplified controllers power the full system.
The lower-capacity Sanford location, which accommodates nearly 200 worshipers, now has an ARCS WiFo system consisting of two ARCS Focus loudspeakers over an ARCS Wide flown on each side of the stage, plus four SB18i subs positioned on the floor. These are all powered using a single four-channel LA12X amplified controller.
As good as the systems sound, the economics were just as important for the houses of worship. "We showed the church as many as four PA systems from various manufacturers, but only L-Acoustics gave them what they wanted in terms of sound quality, and at a price that met their budget," said Garrett.
The outcomes were predictably good, with Pastor Dailey telling Walker that the Winter Park location sound was the best he'd ever heard—in any church. "And we achieved that during the demonstration without any processing; we just set up the speakers and connected the amplifiers with some basic delays and EQ, and right out of the box they sounded fantastic. Once the rig was up and the church heard it for the first time, even before the system tuning, they were convinced they made the right decision."