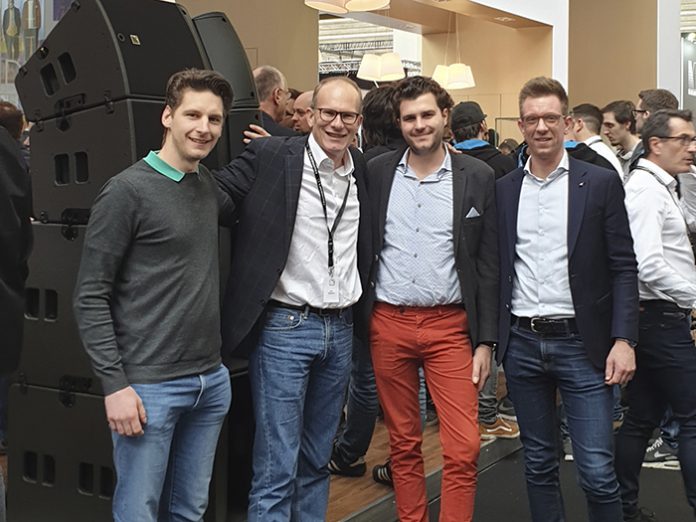 L-Acoustics has a new CPD (Certified Provider Distributor) for The Netherlands called Audio Solvation – a recently formed company specialising in premium brand pro-audio sales and support that comes complete with an impressive pre-existing reputation and heritage.
The founders of the new company, Bram van Cleef and Leo Vranken, have already enjoyed a long relationship with L-Acoustics. in 2009 they started Soundsale, a company that specialises in buying and selling second-hand audio equipment, accompanied by enhanced service and support resources, extensive pre-sale checks, and warranties on much of that equipment.
"Soundsale quickly became well known for expertise in L-Acoustics technologies," explained Tom Dohmen marketing and sales specialist at Audio Solvation. "Bram and Leo saw massive potential there as the brand was embraced by musicians and engineers alike. It produces the most rider-friendly systems out there at a consistently high quality – systems that also maintain a high proportion of their value over extended periods of time. Soundsale was being asked more and more to supply new L-Acoustics equipment. That was the catalyst for starting Audio Solvation."
Audio Solvation is focusing its efforts on sales of new equipment from carefully selected premium brands. With the benefit of an already-established second hand network, and wide experience in the market, Tom Dohmen believes the Audio Solvation proposition has some unique aspects: "We can offer the possibility of trading in current audio equipment as part of the purchase of new equipment, and we can offer attractive finance packages when needed."
L-Acoustics sales manager Han Dohmen explains that this approach can help solve a perennial issue that is faced by many rental companies when they realise that their future should be with L-Acoustics. "We hear from a lot of companies that want to make the switch to using our solutions as their preferred technology," he noted. "That often happens after an initial purchase for a special event or tour. The most common obstacle is turning older equipment into cash to fund the new tools and take a substantial liability off the books. Audio Solvation can help facilitate that."
As a new L-Acoustics Certified Provider Distributor, Audio Solvation will be able to bring the collective experience and expertise of its knowledgeable staff to bear on a new deal for customers. "We focus purely on audio," said Tom Dohmen. "It might be a new company on paper, but we are actually an audio specialist with many years of experience.
"This reaffirmed and enhanced relationship with L-Acoustics means a lot to us. First, it's a reward for our investment in cooperation with L-Acoustics over the years. Second, it means that we can consolidate and strengthen that relationship. Third, it gives us recognition and elevated status in the market. When we've told people that we have become an official L-Acoustics CPD, their reaction is: You have to do something really special to reach that position'. We are of course very proud of that."