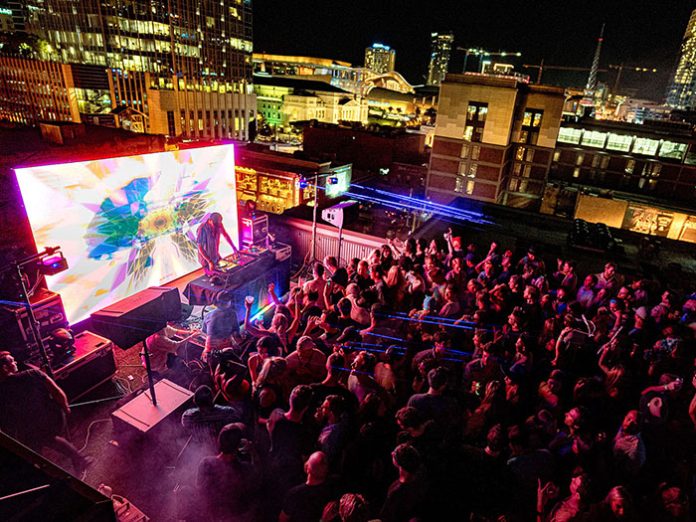 When Nashville Underground first opened its doors on Lower Broadway two years ago, the four-level music venue, restaurant, bar, and event space co-owned by singer-songwriter brothers Joey and Gavin DeGraw added a new and exciting justification for Nashville's Music City moniker. Boasting the city's highest and largest rooftop deck—a double-level one, at that—the impressive space is also home to two kitchens, four bars, and three stages plus a DJ booth that hosts live music seven days a week. To bring these performances to life, Nashville Underground invested in a new L-Acoustics A Series system provided by Camarillo, California-based Rat Sound Systems. 
"When Nashville Underground Operating Partner Joshua Pemberton called me, he was looking to bring more high-calibre artists into the venue. He needed a powerful, high-fidelity sound system, but also needed it to be easy to set up, since it would be constantly moved between their multiple performance areas," said Rat Sound's Dave Rat. "The new L-Acoustics A Series had just been introduced and we knew it would give the venue extremely high-quality sound and a brand name that is very attractive to top DJ and artist riders—but, also be ultra portable and quick to deploy to wherever they needed it that day."
Rat Sound supplied the venue with pairs of medium-throw A15 Wide enclosures, KS21 subwoofers and LA4X amplification from its own rental inventory, which Joshua demoed onsite, then immediately called Rat back to order a set. This established Nashville Underground as the first venue on the Broadway strip – aka the 'Honky Tonk Highway' – to own an L-Acoustics system. Three days later, the system was delivered, just in time to reinforce a packed DJ event on the rooftop deck.
"We're excited to have the first L-Acoustics rig here on Broadway, the heart of Music City," Joshua enthused. "They're perfect for our use, sound incredible, and really separate us from the competition. It's exactly what national touring acts and their agents want to see and, of course, what they want to hear."
Dave agreed: "The A15 is exciting in that its passive configuration allows extremely efficient usage of amplifier channels. It's a small, portable system, but the sound is powerful and articulate. We've sold quite a few A Series systems to rental and production houses here on the West Coast, but with most of the other venues in Nashville still using older sound systems, Nashville Underground has set itself apart with this modern, scalable system."