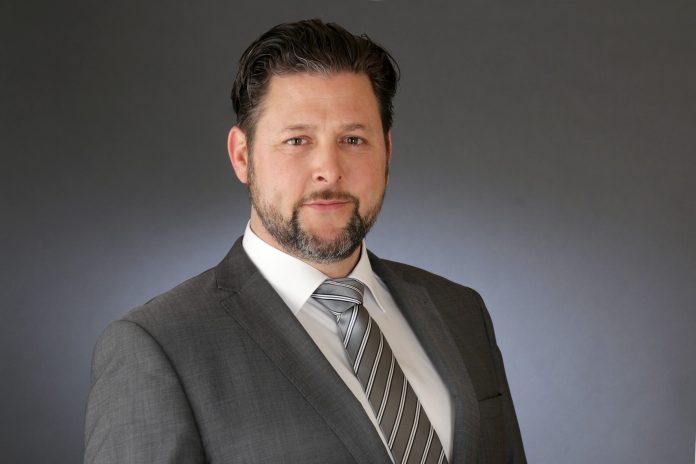 Kramer, an audio-visual experience company, has appointed highly experienced and multi-talented AV/IT professional, Marco Widmann, as its new Area Sales Manager for Central Germany.
As part of his new role, Widmann is tasked with driving the company's 'AVoIP revolution' in the DACH market.
One of the AV industry's most expansive talents, Marco – a father of three – adds significant, knowledge and experience to Kramer's expanding team, having worked at and delivered success to some of the world's leading and most established AV companies during an illustrious career.
This includes almost four years as Channel Marketing Manager and Key Account Manager at Samsung Electronics, playing an instrumental role in delivering record sales growth – a proud track record Marco aims to repeat with Kramer. 
Based in Frankfurt, multi-lingual Marco becomes the latest high-profile addition to Kramer's DACH management team in recent weeks, with Gerrit Lipgens – to whom he will report– recently joining as  Country Manager. 
More than just an appointment, Marco represents the continued evolution of Kramer's DACH and wider Europen strategy, adding enhanced strength and resources to existing regional sales and management teams, while providing more localised, relationship-driven support and offerings to its valued partners and customers.  
Among his responsibilities as Area Sales Manager, include extending and solidifying relationships with new and existing partners, identifying new sales and opportunities across all market verticals, generating new leads and converting sales.
All the while driving greater understanding and awareness of Kramer's innovative and highly advanced range of multi-award-winning engagement technology and software solutions. 
Part of a company-wide focus, and having identified significant opportunities in the DACH market, Marco – a qualified football referee, and coach for young children in his spare time – will look to further drive awareness and the outstanding benefits of its "unrivalled" suite of AVoIP hardware and software solutions.  
According to forecasts, the global AV-over-IP market size was valued at $4782.49 million in 2022 rising to $76850.48 million by 2028, presenting significant opportunities for Kramer and its partners. 
Used and trusted by organisations around the world, and across a growing number of market verticals – from corporate buildings to university campuses, and even fishing vessels – Kramer has become a leading brand of choice in providing high quality, secure and reliable capture, management and distribution of audio and video signals over an IP network, whether in single or multiple locations anywhere on the planet.  
Kramer customers now have a full suite of AVoIP solutions, suitable for projects of any size and scale, including AV Streamers, Audio Over IP, Network Switches, and Management Software. 
This includes the readily available lineup of KDS-7 products, plus the new (available from October) state-of-the-art KDS-100.
Launched at InfoComm 2023, the KDS-100 boasts exceptional scalability and offers a 4K60 AVoIP streaming solution based on open standards.    
Discussing his appointment, Marco said: "I am proud and excited to be joining Kramer, and be part of its exciting new journey in the DACH market.
"The company has undergone some significant and positive transformations in recent years and is in a fantastic and enviable position to combine its truly world-leading solutions, with never before seen levels of support to its partners.
"Kramer is driving the AV over IP revolution, and today, I'm confident in saying we offer the most extensive product range, found anywhere in the current market. The opportunities as a business, for our partners and end customers, have never been greater." 
Gerrit added: "Kramer is a company on the rise and to ensure business is done in the right way, it's important that we have the right people.
"With Marco's extensive experience in AV, IT and even marketing, we have that. His achievements to date make him one of the industry's most accomplished talents and we're delighted to have him on board for this important role." 
He continued: "As an industry leader, Kramer is not only reacting to market trends and customer needs but also leading them.
"We're prolific in supporting customers in transitioning to AvoIP, with an evolving, highly innovative and multi-award-winning range of solutions. It's time more partners and customers in our region can reap the value and benefits these provide, whatever business they're in. Kramer is the destination for AVoIP." 
Marco concluded: "I feel like all roads in my AV career have come to this, and I have never been more excited nor enthusiastic. We have some incredible opportunities in the DACH market and I'm proud to be joining Kramer on its journey and helping to fulfil its undoubted potential."