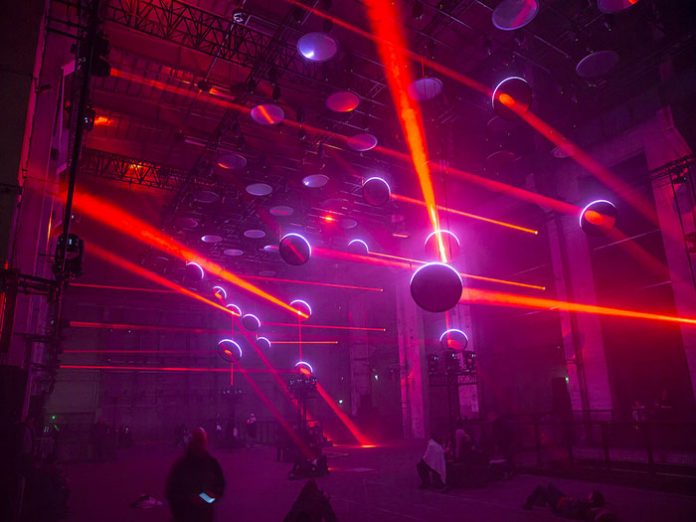 Anticipation, anger, disgust, fear, joy, sadness, surprise, trust – eight primary emotions – expressed and experienced during SKALAR, an immersive kinetic light art piece created by Artist Designer Christopher Bauder and Musician, Kangding Ray.
SKALAR takes over the giant former turbine hall on the third floor, which offers a 100 metre long by 40 metre wide performance space, complete with 25 metres of headroom. WHITEvoid produced the event, with all the technical production and equipment sourcing also co-ordinated via Kinetic Lights.
The self-commissioned work also partnered with the 2018 edition of Berlin's annual CTM Festival for Adventurous Music and Art for its first week, but then ran-on for an additional three weeks. Christopher and David Letellier (Kangding Ray) tailored the work exactly to fit into the building. "It's not a place you negotiate with" explained Christopher, "The deal is that you take it on-board and treat it with the respect it deserves, find solutions for issues like reverb times and the special rigging required". It was more like a privilege being able to work there.
The mirror system is rigged in the roof of the space with the lights positioned all around on three sides – 75 Robe Pointes are attached to the walls on ladders and 15 are on three totem trusses on the floor in the centre. This dynamic set up allowed Christopher to blend and bend the lighting in numerous different directions.
Each mirror is controlled by three winches which give seven metres of up / down movement plus pan / tilt, so they can move incredibly smoothly on XY and Z axes making their kinesys three dimensional and fluid. The mirror movement is controlled via ArtNet by Kinetic Lights' proprietary KLC software platform and the whole system is networked.
"In addition to the accuracy of the lighting cues we needed a light with highly calibrated colours that matched perfectly. It had to be quick moving, easy to handle and programme … and also readily available. This and the crispness and clarity of the light emitted by the Pointe made it perfect for this installation".
The DMX data signals are converted from ArtNet and integrated into the KLC computer where Christopher and his team programmed a series of lighting treatments – from being heart-opening, playful, joyful on one end of the scale to dark, fragmented and angry on the other – which are rendered as cues in real-time during playback, triggered by MIDI keys from the Ableton Live system running the master track.
Kinetic Lights supplied 90 Robe Pointes as dry hire by rental company Motion from Feurth. The hazers were supplied by Look Germany, with Complete Audio supplying an L-Acoustics KARA / ARCS sound system. Roof flying was completed by Kraftwerk house riggers Satis & Fy, while the trussing to support the winch system was sourced from Lichtblick in Berlin.