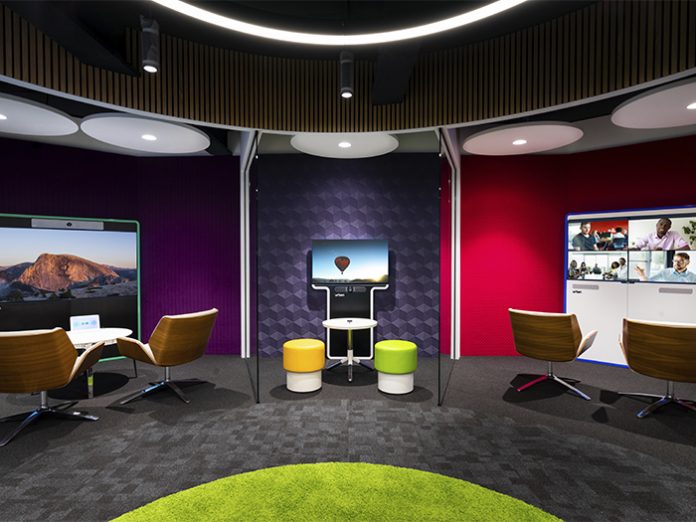 Urben will open its newly transformed in-house demonstration facility this month, showcasing the company's UK-manufactured range of digital collaboration solutions which include integrated ultra-compact K-array loudspeaker systems.
St Albans-headquartered Urben delivers unique all-in-one meeting room solutions all around the world, with units designed for corporate communications ranging from small huddle rooms and large boardrooms, to control room installations and digital signage. The permanent on-site demonstration suite will showcase solutions for safely returning to the office during the COVID-19 pandemic, as well as featuring innovative solutions for lobby spaces and immersive collaboration requirements.
K-array takes pride of place amongst the top technology providers deployed in Urben systems as one of a select group of brands capable of delivering top quality audio performance from a very small form factor. All of the Urben range of products are slimline and floor-standing, requiring only power and data in the floor and avoiding the restrictions associated with wall mounting, and occupy an extremely minimal footprint. The Urben Trio – which houses as a standard configuration a pair of Vyper-KV25 ultra-flat aluminium 25-cm line arrays and two Truffle-KTR24 compact subwoofers – measures only 4cm in depth, a feature clearly illustrated by Urben's Head of Business Development, Andrew Giles: "If you want a small speaker to fit in a small space, then K-array is what it's going to be."
Urben's bundled audio-visual solutions currently lead the field in terms of modular design, ease of installation and use, and audio performance. Combining industry-leading hardware and software Urben systems have already achieved widespread adoption by the two major digital collaboration platforms aiding businesses to communicate effectively during the restrictions imposed during the pandemic.
Urben is an official Zoom partner, having kitted out several of the communications technology firm's office suites in San Jose, CA, and London because they wanted a complete solution with top end audio, and also works closely with Zoom in deploying instant meeting room facilities to support Zoom Rooms licenses. Underpinning its vendor-agnostic design concept, Urben equally accommodates the Microsoft Teams platform (amongst others), allowing users to benefit from all available data collaboration options.
The Urben concept resonates strongly with the way the world is transforming right now – with the way that businesses are communicating, sharing data and acting on it at a pace that would have been unimaginable a few months ago. Urben provides an answer for companies that are looking to redeploy and make better use of expensive real estate.
"We're seeing a growing trend for firms to divide up large boardrooms which are rarely used into smaller huddle spaces equipped with our slimline Urben solutions," explained Andrew Giles. "So the Urben systems are a low cost but high-quality solution for people who want to quickly pop up a very simple meeting room; it's very affordable even for small businesses and start-ups. And it's all about ease of deployment and speed of installation – we can install a complete Zoom Room or Microsoft Teams Room in a fraction of the time it used to take because the systems are modular and pre-bundled, ready to plug and play. A client can order an Urben Lite or Nano solution before midday in the UK and have it delivered and be up and running within minutes on the next day."
"Our first experience of using K-array was in a British Formula One Team's control room, which sounded amazing," continued Andrew. "Then we went on to equip a global energy services company's headquarters with a large scale system using Vyper line arrays and Rumble subwoofers integrated into a 6m by 3m Barco display."
Urben solutions are distributed worldwide, since many clients are multi-nationals with offices around the globe – a process made even easier due to K-array's legacy and widespread acceptance as a high-end and ultimately stylish loudspeaker brand. Giles expounded: "the small footprint, crystal clear sound quality and ability to accommodate compact subwoofers in the larger triple screen Urben systems make K-array a perfect match. The form factor gives us a lot of flexibility in the way we design our systems to maintain their slim profile. You may not be able to see them, but when you fire them up they sound amazing."
In addition to helping people adapt to a radically different working environment and getting back to the office, Urben also offers a smart way forward for distance learning. Again, the modular solutions can be easily customised and deployed, and as a result, secondary learning institutions, higher education facilities and universities are taking advantage of the multiple video and data feeds that are possible, allowing the teachers to see all the students, interact with them and keep track of the lesson's content in one view.
"We chose K-array because it's the optimal combination of size and audio quality to fit within Urben's ultra-thin frames," said Giles. "It's the best sound on the market from such a compact unit; we're delighted with how it sounds in Zoom's offices.
"We're using the launch of our new demo suite to show off AV solutions in a real environment because the technology is evolving so rapidly. People want to see the total solution and hear what it can do for them," he concluded. "We look forward to welcoming visitors to the K-array experience at the Urben Demo Suite."