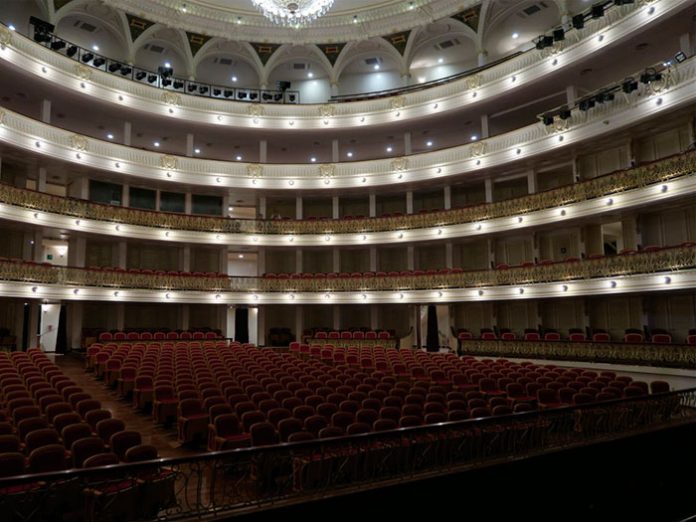 The Gran Teatro de La Habana is located in the Paseo del Prado in the heart of the capital city of Cuba. It is Located within the Palace of the Galician Centre, which was built as a place of social reunion for the Galician immigrants in Havana, the theatre opened in 1838 and is home of the Cuban National Ballet and the International Ballet Festival of Havana.
Recently, the theatre underwent an audio renovation and delegated installer/distributor All Trading Worldwide selected K-array to outfit the theatre. Using simulation software, All Trading designed the system to have the most even and powerful coverage for all seating while maintaining the lowest visual impact possible.
The K-array solution is composed of eight KP102 Pythons plus a half-meter KP52 Python arrayed on both sides of the stage opening as the main system. These mid-high arrays are supported by four KMT18P subwoofers per side. The line array assures long, narrow coverage for clear sound both close to the array and in the distance. The result is that the speakers do not overpower the audience in the first row and remain highly intelligible until the last seat.
Additionally, three KAN200 Anakondas were chained and implemented under each balcony to reinforce the sound coverage of the first seats closest to the stage that aren't aligned with the main system. Two half-meter Pythons supported by a KMT12P subwoofer were set for the same purpose for the upper balcony. Six KAN200+ Anakondas were installed in front of the stage as front fill powered by a KA84 amplifier.
The installation was so precise and well-executed that All Trading Worldwide received an award for their efforts from K-array at their annual distributors meeting for Best Theatre Installation. And recently, the theatre gained global attention when US President Barack Obama visited Cuba in March and addressed the Cuban people from the stage of the historical venue, marking the end of a decade long estrangement between the two countries.