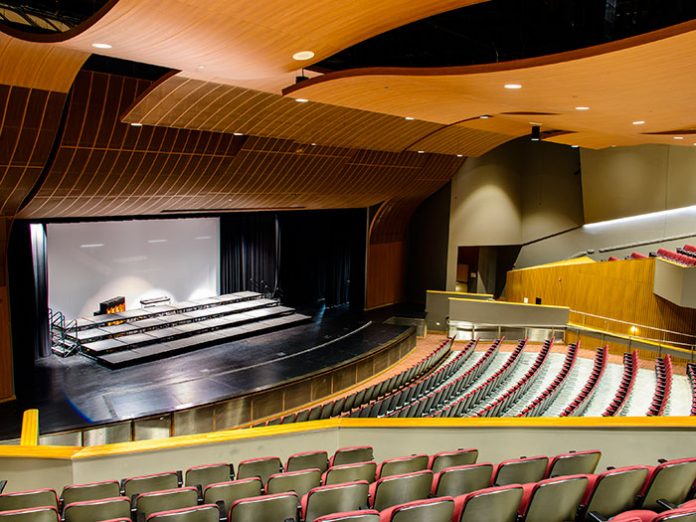 In May of 2011, a catastrophic F-5 category tornado ripped through Joplin, killing 158 people and leaving a mile-wide swath of devastation in its wake. Joplin High School was one of many buildings destroyed, its students and faculty forced to scatter among multiple temporary homes while the community has rebuilt.
And rebuild they have. The new Joplin High School is an architectural gem, and the school's 1180-seater Performing Arts Center is its jewel in the crown. The impressive hall boasts a massive stage, orchestra pit, and state-of-the-art audio and video systems, which have been installed by AVL Systems Design in Edmond, Oklahoma.
The auditorium's PA system is centered on Renkus-Heinz IC2 steerable line arrays in a L-C-R configuration, with three arrays of four IC2 cabinets each and a single hang of four IC118 subwoofers. As Marc Pierce, President of AVL explains, the steered array technology was ideally suited to the challenge of designing a sound system for the space. Marc stated that the original design had specified a more traditional distributed point source system. As the design phase progressed, it became clear that access to the speakers would be limited, and Marc and his team would need a system that would gave the ability to aim the sound where needed; without physically moving the speakers.
The IC2 enabled them to design a system that did not impact the architectural design, and saved the client a lot of complications.
AVL Director of Engineering, Ryan Zemke added to this: "The IC2 made a lot more sense in terms of the nature of the space. The ability to create multiple beams in the RHAON II software, and to both vary and aim those beams to reinforce the sound where it needs to be while avoiding hard surfaces like the walls and balcony facing, enabled us to provide consistent coverage to every part of the auditorium."
The hall has been a tremendous inspiration not only for the school, but for the local community as well.
Joplin HS Technical Specialist, Adam Bell concluded an observation: "The design of the hall allows us to do much more than we could in our previous space. It's enabled us to open the space not only for our school and our students, but the community too. We've had some great shows and some national touring acts come in, and that's all because of the new sound system."