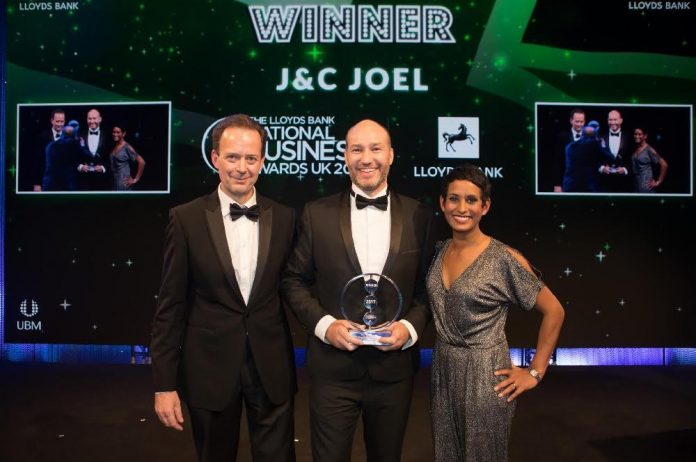 J&C Joel has won the Exporter of the Year category at the Lloyds Bank National Business Awards.
The Sowerby Bridge based firm, which is one of the world's leading manufacturers of flame retardant fabrics, drapery and stage engineering solutions, was praised by the judges for the pace of their international growth, the range of countries they cover and their strategy of offering of a range of value-added services suited for both their UK and overseas clients.
The Lloyds National Business Awards, which took place at Grosvenor House, London, on November 14, is the UK's most prestigious independent business recognition platform with a particular emphasis on excellence, innovation and ethical business.
To scoop the award, which was sponsored by Lloyds Bank, J&C Joel had to see off stiff competition from Clifton packaging Group, Cocofina, Durbin, M Squared, Jeunvie, Osprey Europe, Pricecheck and Vision Support Services.
J&C Joel's CEO, James Wheelwright, said: "We are extremely proud and honoured to have won this award, we weren't expecting it as we were up against some really strong businesses. In recent years we have invested heavily in our export infrastructure; opening new offices overseas and expanding our operations to ensure we are offering the best service for our customers worldwide. To be recognised nationally for our success makes all the hard work the team has put in worthwhile."
Over the past year J&C Joel has been recognised specifically for their exporting capabilities picking up the Business Desk Yorkshire Business Masters Exporter of the Year, Insider Made in Yorkshire Exporter of the Year and the Yorkshire Post Excellence in Business Exporter of the Year.
James added: "It has been a fantastic year for us as we have been recognised across the region for our exporting success. To win all these awards is a terrific achievement and an absolute credit to everyone here at J&C Joel."

www.jcjoel.com