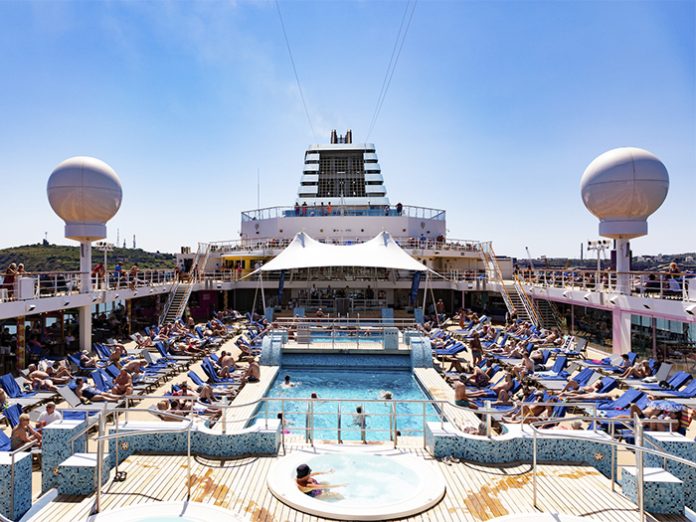 Two years ago, after Thomson Cruises (part of TUI) had rebranded to Marella Cruises, the instigation of a refurbishment programme of the fleet saw UK technology company tedav (part of The Entertainment Department), awarded a long term contract to provide entertainment and comms systems, commencing with the conversion of Mein Schiff 1 to the Marella Explorer luxury ship.
Audio and networking components deployed through the many entertainment spaces and general deck areas were sourced from the HARMAN Professional Solutions catalogue via UK distributor Sound Technology Ltd.
ted's successful audio design template—along with the addition of Martin Professional from HARMAN lighting—was adopted and expanded when the company returned to Navantia Cadiz Shipyard in Spain 12 months later to begin work on their second project – the Marella Explorer 2. And with technology having moved on, they were able to place the first UK order at the time for the new JBL VTX A8 line array system.
Under the direction of tedav's Senior Project Manager, Martin Jones, and Cruise Technical Manager, Flavio Diolaiti, just eight weeks after embarking on the project, they had equipped eight venues on the 14-deck vessel, transformed by a 40-strong team (including permanent technicians respectively dedicated to sound, light and automation).
"We created a bespoke installation out of nothing," said Flavio. "We had to start from scratch, as none of the equipment onboard was reusable."
Overall, the project involved around 25,000 metres of cable, and from an audio perspective, around 100 of HARMAN's JBL loudspeakers including the new VTX A8 line-array, a variety of CBT Series Constant Beamwidth Columns, and a combination of AC Series and Control Contractor on-wall and in-ceiling speakers. All are powered by HARMAN's efficient Crown DCi and iTECH HD amplifiers.
Site-wide Dante signal transport is interfaced locally with HARMAN's BSS Soundweb BLU hardware devices via BSS Audio's proprietary BLU link.
As with Marella Explorer, the key venue on Explorer 2 is the 1000-seat Broadway Show Lounge theatre, where the VTX V20/VTX S25 combination that serves Explorer so well had now made way for the new technology of JBL's VTX A8 system.
Six VTX A8 line array elements have been flown per side, along with four VTX S25 subs (two per side). The system is powered by two Crown IT 4x3500HD and two Crown IT 12000HD amplifiers. Five JBL AC25 provide front fill and stage monitoring and six AC18/95 (in horizontal mode) service the three balcony areas, powered by a pair of Crown DCi2 1600N amplifiers.
Explaining the A8 selection, Martin said: "We had been very impressed with VTX the previous year, and were even further impressed when we heard the A8 demo at the HQ of Sound Technology."
He confirmed that tedav have their own specialist marine electricians, while a rigging specialist had been engaged to make the steels and ensure the rig remained rock solid while out on the ocean waves. "We had to work out where to weld in our own flying points, as well as certify them for use," he said.
The Broadway Show Lounge also features HARMAN's Soundcraft Vi2000 digital console, equipped with MADI and Dante protocols to allow signals anywhere on the ship's network to be picked up by the console.
All shows are run on time-code, LTC and MTC, triggered from Qlab, which also runs the playback and video. Aside from the shows themselves, 24-channel multitrack audio is played out over Dante with some shows featuring a four-piece band also.
The Entertainment Department's scope of work not only included the entire AV integration, overcoming all technical and operational challenges, but providing the entertainment packages, with 12 production shows (six per week) in the main Broadway Show Lounge alone.
HARMAN solutions are also to be found in many of the other featured areas. For many of these areas the JBL speakers are décor matched, finished in custom RAL colours to complement the aesthetic design rather than blend into the background. For instance, in one venue, Aperitif, the speakers are finished in green, whereas in Flutes everything is in pink. These are also two of many spaces to feature HARMAN's Soundcraft Ui24R remote-controllable digital mixers.
The Pool Deck meanwhile features a high-performance CBT installation. Eight JBL CBT 1000 and CBT 1000E Extender column loudspeakers have been specified, with eight CBT70J alongside the giant 9 x 5 video screen for the main events. The sound is delayed further down the deck with CBT 70J and custom coloured (in blue) Control 25s with marine grilles. "There's an 'A' sound system for bands and a 'B' system for movies," Flavio explained.
Dance club Indigo is also served by JBL's AM7212, AC18's and AC15's, supplemented with ASB6112 subs on the band stage, as well as a full BGM system with custom RAL coloured Control 14's. The main Dining Room also features four colour matched CBT50 speakers.
The Squid & Anchor pub sees JBL AM5212/26 loudspeakers installed horizontally at FOH, while 12 AC18/95 loudspeakers act as delay fills from their position on the deck head. Stage monitoring is provided by JBL AC18/95's, driven by Crown DCi 2|1250N amplification. tedav have also provided a Soundcraft Si Impact (with Mini Stage Box 32) since full band mixing is required at front of house, with the action relayed on a 5.5m LED screen.
tedav also installed a full BGM system in the Spa, broadcast via 27 JBL Control 14 ceiling speakers, Control 26CT and 19 CST ceiling subs. Once again, Crown's DCi 4-channel amps provide an elegant and economic solution, with the capability of driving speakers 100V line (as in the Spa) as well as 4- and 8-ohm impedance.
The zonal distribution for all areas is via BSS' proprietary BLU link over a Dante highway using a number of BSS Soundweb BLU-100, BLU-160 and (mainly) BLU-50 DSPs. EC-4BV or EC-8BV source select wall panels are provided for operation by bar staff. All cables are run back to a central rack room housing five 40RU 19" racks which also contain Crown DCi 4|600N multichannel network amps, XLS, I-Tech and CDi. BLU-BOB output expansion units — and BLU-DAN Dante input expanders were deployed to increase the channel count.
Explained Flavio: "All areas of the ship are controllable from an iPad, tied into the ship's fibre backbone so we could access them from every point."
Martin confirmed that in view of their high efficiency, extremely low power consumption and network capabilities, Crown's DCi's were the obvious choice. Similarly, in the case of emergency alerts (and the need to mute the system), the BSS BLU-160 was ideal with its GPO control port — instead of using multiple relays.
Meanwhile, all the production lighting onboard is from Martin Professional, as Flavio explained. "We chose the brand because it has so much history, we are very familiar with it and it's not too heavy."
Throughout, they have used a selection of MAC Quantum Profile, MH7 Hybrid and MH6 Wash, positioned on the ten lighting bars. Control is via two GrandMA Full Lite and Wing, running ArtNet, with an MA Network Processing Unit in the rack. This is driven by 400 channels of ETC dimming.
Summing up the overall installation and performance of the VTX A8 in particular, Martin said: "The A8 was fantastic and even our programmer, who is not a JBL man, was hugely impressed." Flavio added: "The system sounds incredible, especially in the mid-highs, and very clean. The technical director of Marella was very pleased with the result."