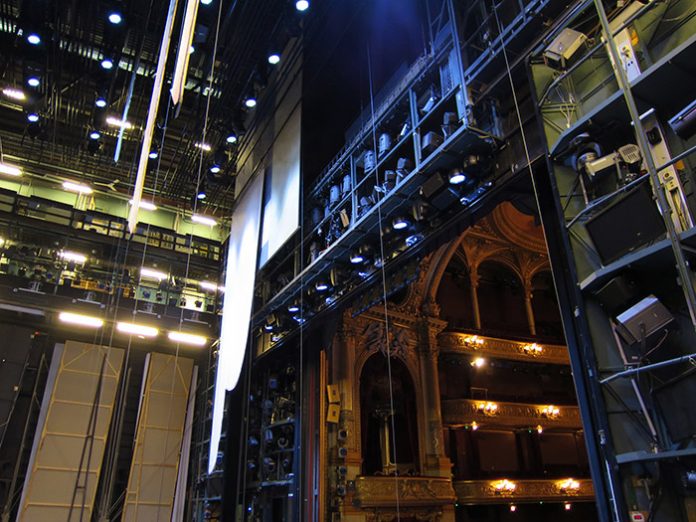 The Royal Swedish Opera, extensively renovated within the last two years, is the most important of the three major opera houses in Sweden.
During the last two summer periods, the lighting control system was replaced completely, and the superstructure and substructure of the stage renewed. In addition, seven completely new lighting bridges including engines, cables and the entire hardware were designed and installed.
Virtually every lighting fixture of the lighting set was replaced. This resulted in a mixture of spotlights which enables both performing shows in the style of the 1960's and – which constitutes the more important aspect – meeting the requirements of modern lighting designs now and tomorrow. This includes also 38 blank positions in the rig large enough to carry also moving lights if needed.
The new lighting set consists of different remote-controlled spotlights, with discharge and halogen lamps, as well as an LED light source a total of 104 moving lights have been specified products by JB-Lighting consisting of 75 A12 RGBW, six A12 tuneable white, six A8 RGBW and 16 Sparx 10.
In order to redefine the lighting design, and to specify device type and position, lighting designers with different styles and preferences from Sweden, Germany and England were invited. The result is a lighting rig that is met with great approval by the lighting designers. All in all, the decisions in favour of the individual lighting fixtures were made in consideration of the aspect of quality and versatility.
With regard to the LED washlights, the main emphasis was on the quality of the light beam, colour mixture, colour saturation and noise. All lamps of renowned brands currently available were tested which performed overall well. The main difference, which led to a decision in favour of the A series by JB-Lighting, was the quality of the colours and the perfection of the illumination. Prerequisite was that the LED washlight is able to create both rich, deep colours and pastel tones.
The A12 was superior in terms of warm tones and also a profoundly dark blue colour. A further advantage is the excellent illumination which meets the high demands even of the Stockholm lighting designers.