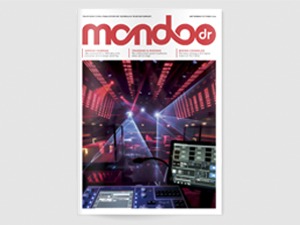 We're so proud and exciting to introduce you to… the new look mondo*dr! There has been some hard graft to bring this to fruition, but we hope you'll love the redesign as much as we do.
First and foremost, you should spot our new logo, striking and bold in order to move the magazine forward into its next chapter. Inside, all the existing features have undergone a make-over and we've thrown in a few newbies too. Our first new feature is In Discussion on page 12, which will be written by one of you, our readers, every issue. You can discuss new technology, compare similar yet different technologies, provide an insight into a geographical region or even discuss market trends. Equally if you have your own idea for a column and want a platform to share it on, please get in touch.
Next up is Inside View, which takes a closer look at the technologies, which don't often get a spot in the limelight. In this issue we learn more about Audinate, turn to page 14 for more details. You'll notice In Brief has moved to the In Focus section and now hones in on just one installation per territory, I think you'll agree it makes an impact. In Detail – which gets started on page 112 – has also expanded, giving you the opportunity to send detailed product descriptions and user comments.
All our regulars are there for your perusal too, the Interview features new d&b audiotechnik CEO, Amnon Harman, the Report section focusses on Trussing & Rigging, we have show reports from Mediatech in Johannesburg and Palm China in Beijing, as well as product launch events from Coda and Roland.
The venue section incorporates a couple of round-ups this issue, first some highlights from Expo Milano 2015 and secondly, a guided tour around the sites Rachael saw on a recent trip to the Asia-Pacific region. And to finish off we have a Product Guide dedicated to Mixing Consoles and our Last Page interview with husband and wife, Albert and Berenice Chauvet.
On a final note, don't forget to check out page 16, where we are now able to share the exciting news we've been hinting at for the past few weeks!