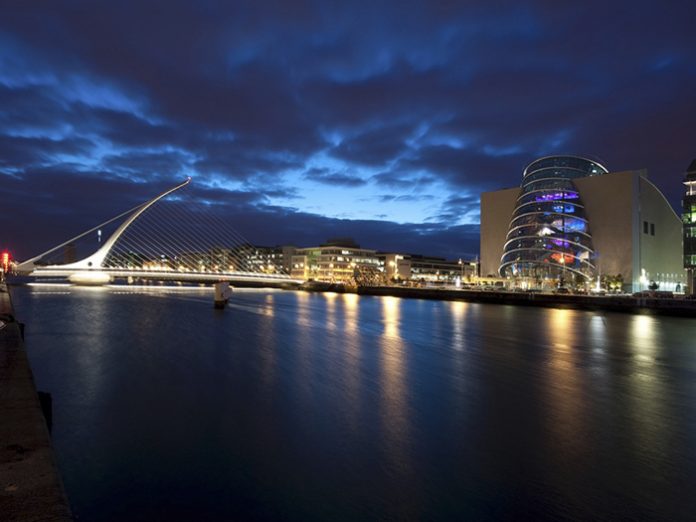 The first convention centre anywhere in the world designed from the outset to be carbon-neutral, the multi award-winning Convention Centre Dublin (The CCD) opened in 2010 and is the first state-owned, public-access building to be constructed since the foundation of the Irish State. It has since become an iconic landmark on the Dublin skyline while its world-class facilities, technical infrastructure and central location make it attractive to a wide range of international clients.
A total of 22 separate, individually-configurable spaces are available for meetings and events of all kinds. At its heart is a 2,000-capacity auditorium (featuring a full theatrical production specification) in addition to a capacious exhibition space, extensive banqueting facilities, a further large theatre space in the Forum and six spacious areas in the magnificent glass-fronted foyer.
Autograph Sales & Installations were recently approached to provide an upgrade path to the venue's existing Clear-Com communications equipment, which had been in place for some years. The brief was to provide a contemporary system that would achieve improved communication connectivity throughout the building and to simultaneously build in as much future proofing as possible, allowing room for easy expansion of the comms infrastructure if needed later.
Autograph
's Ben Tredwell led the project and following an on-site demo, proposed Clear-Com's Freespeak II system which is a five-channel, full-duplex wireless intercom solution, available on both 1.9GHz and 2.4GHz bands and ideal for large-scale application such as The CCD.
The full complement of products delivered included 20

 
FSII-BP19

 
beltpacks, a single Freespeak II Base II base station and 10

 
FSII-TCVR-19

 
transceivers plus a full range of supporting accessories. An additional advantage of the new Freespeak II equipment was that it allowed much of the existing analogue two-wire equipment to be cost-effectively integrated and repurposed within the new system. Shortly after delivery, Tredwell also spent a day with The CCD technical team for full commissioning and in-depth product training.
Pat Crowley, Technical Production Manager at The Convention Centre Dublin (The CCD), explained how the Freespeak II equipment works for their business, "We are delighted with this new communications system. The built-in programming software is so easy to use, which is important for us as we have a team of technicians that includes a pool of freelancers. The main advantage to the Freespeak II over the previous system is that with just one base station we have all the coverage we need and have experienced little or no dropout."
Pat added: "The CCD is a building with event spaces over six floors, so we needed equipment that could meet the challenge of multiple spaces over multiple levels. We use one Freespeak II system in three different event spaces over five floor levels. Each space has an analogue multi-channel Clear-Com system connected to the Freespeak II, and we can easily program the packs to work any space required."
"We have had a number of clients who have used the system at their events with great success.  Leading into a busy year with multiple large-scale events, the Freespeak II gives us real confidence that we can meet all our clients' requirements."