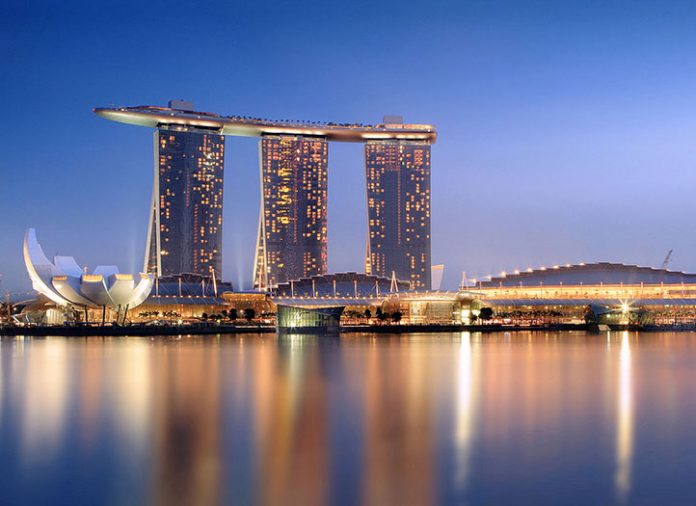 Sands Expo and Convention Centre, Asia's leading destination for MICE (Meetings, Incentives, Conferences, and Events), has upgraded its inventory of AV equipment with the first Meyer Sound LYON and LEOPARD linear sound reinforcement systems in Singapore.
Located within the Marina Bay Sands resort, the centre has invested in 156 total Meyer Sound loudspeakers to support large-scale corporate events and concerts. This feat represents the largest investment to date in LEO Family technology by any hotel/MICE operator in the world.
LYON and LEOPARD systems can be configured for precise sound distribution and powerful projection—even at continuously high output levels. Mike Lee, Marina Bay Sands' Vice-President of Sales stated that the sound system also provided superior vocal intelligibility and a consistently linear response. Mike feels that from an operational standpoint, the sound system's faster and simplified cabling process helped an easier setup, and even reduced storage space compared to conventional systems.
Meyer Sound systems offer a significant return on investment for companies like Marina Bay Sands that host year-round events with their own inventory.
Meyer Sound's Vice-President of Solutions and Strategy, John McMahon spoke of the benefits of LYON and LEOPARD systems: "Our self-powered systems eliminate separate amplifiers, processors, and cable sets." John added that the setup time for staging live events is shortened and how the production process is simplified thus saving the user time and money on a daily basis.
Sands Expo and Convention Centre's massive LEO Family system purchase also provides the resort with a newfound flexibility and consistency in system design. All LEO Family loudspeakers and subwoofers share the same sonic signature, which allows for easy configuration and scalability to any size venue or any application.
The upgraded audio, video and lighting inventory are a strategic investment aimed at further enriching the customer's experience. With even greater technical quality, Mike Lee is confident that the sound system can provide Marina Bay Sands the ability to meet increasing demand from event planners that bring in world-class entertainers requiring the best in AV capabilities.
The centre's new systems had their debut in the second edition of the Sands Live concert series, featuring world-renowned acts performing in the integrated resort's intimate, state-of-the-art entertainment venues. A one-stop solution was also provided for the closing ceremony of the 8th ASEAN Paralympic Games in the Sands Grand Ballroom through the use of a LYON system and Vari-Lite VL4000 lighting.
The ceremony was a true audio-visual spectacle and a milestone for Marina Bay Sands as the official host venue, which accommodated more than 2,700 athletes, officials, sponsors, community partners, and volunteers in attendance.
The centre's investment includes 36 LYON and 42 LEOPARD line array loudspeakers supplemented by 24 1100-LFC and 16 900-LFC low-frequency control elements. The systems are not permanently installed; as a result, they can be moved or configured as needed in any of the integrated resort's numerous indoor and outdoor event spaces. Also included are 24 MJF-210 and 12 MJF-212A stage monitors and eight Galileo Callisto 616 array processors.
Sands Expo and Convention Centre's new investment follows a 2012 purchase of 50-total MILO, MINA, and CQ-2 line array loudspeakers and 700-HP subwoofers and all systems were supplied by Singapore-based Coda Group. John McMahon concluded with the advantages of highly linear and how the self-powered Meyer Sound reinforcement systems make them an ideal solution for a variety of exhibition centres, conference centres and multi-use rental applications. Said centres and or multi-use areas can also be interchangeable and scalable, as events require.