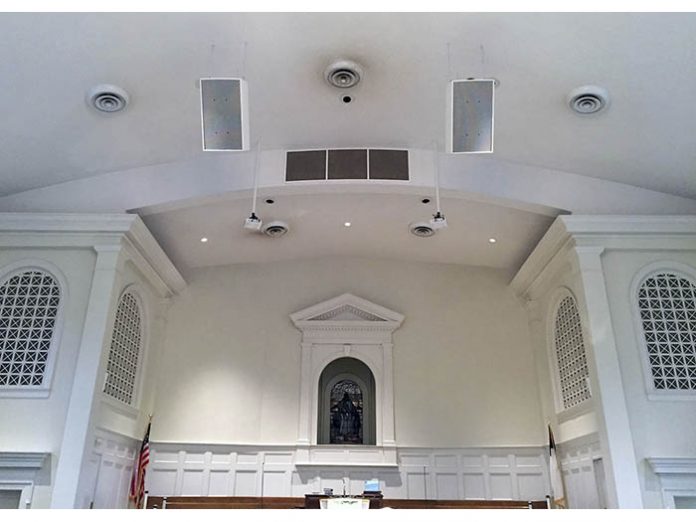 Sid Gattis, owner of Gattis Pro Audio, was all set to install a top-notch, state-of-the-art line array system at First Baptist Church in Lincolnton, North Carolina – as he had done in scores of other churches – when fate intervened. Gattis attended InfoComm and heard Danley Sound Lab's new SM-80F point-source loudspeaker with built-in subwoofer support. Designed by pioneering acoustician Tom Danley and his team of engineers using several of their patented technologies, the SM-80F provides remarkably even coverage, well-defined pattern control, and articulate, high-fidelity audio. Sid had always been sober-minded about the limitations of even the best line array systems, and he saw that the Danley SM-80Fs would save the church $12k, provide higher-quality sound, and – at half the size of the line array – limit the visual impact to First Baptist Church's aesthetic.
"First Baptist Church has a large, traditional sanctuary, and they've long had a traditional Baptist service to go with it," explained Sid. "But they're also making a slow shift to a more contemporary service. However, the audio system they had in place for the past twenty years was not going to support that shift. On top of being just plain old, it was buried in the organ chambers, which led to all kinds of weird resonances and dead spots in the room. Even speech was borderline unintelligible at various places throughout the sanctuary."
Sid had a line array system designed for First Baptist Church with a schedule to receive and install it near the end of the summer, but then he attended InfoComm in June. "The Danley SM-80F blew me away," he said. "I went back to First Baptist and said, 'I've got something that's going to save you $12,000 and that will sound even better than the line array we had planned.' They were already into the idea of the line array, but they also trusted me [Gattis Pro Audio secured the job in part because of work Gattis had done decades ago with the youth leader's father]. They agreed to give it a shot on the condition that we would remove the Danleys and put in the original line array if they weren't satisfied. Since I knew they would be more than satisfied, it was an easy condition to accept."
At just shy of four feet tall, the Danley SM-80F is half the size of the comparable line array that Gattis had originally proposed for the church, and visual impact was a big deal (recall that the original audio system had been buried in the organ works!). Gattis installed two SM-80Fs for true stereo output, and their built-in, double fifteen-inch (patented) Tapped Horn subwoofers fill in the bottom end beautifully. A QSC QSys DSP provides modest input and loudspeaker conditioning, and QSC four-channel amps power the system. A church-requested Allen & Heath console provides a clean front-end and user interface for the system.
First Baptist Church also has a rear balcony, and although the Danley SM-80Fs were covering it, Gattis wanted to augment their output with a bit more mid-high content. "We've had some success with the Danley Nano, which is just a single three-inch driver, and I thought it might give us the right sparkle for the balconies," he said. "I wasn't certain it would work, and we were prepared to back up and punt if we needed to, but Nanos seemed like a decent way to push some mid-highs and highs up there so that vocals would be perfectly articulate." Gattis installed two Nanos, which are so small that the church members had trouble even seeing them! As hoped for, they did the job beautifully.
In addition to the new sound reinforcement system, Gattis Pro Audio also gave First Baptist Church new lighting and a new video system for recording and streaming. All the lighting is Elation, with the bulk of the work being done by Elation DTW 300 fixtures that Gattis' crew custom painted white. The lighting isn't tricky or ornate, but rather brightens the stage so that the PTZOptics 20x cameras get a good image. Roland V-800HD and XS-1HD matrix switchers tie the video inputs and outputs together.
"They love the new Danley system," Sid concluded. "For the first time, they have real bass response, and all the full-range content is consistent and articulate. Certainly, no one is asking for a line array!"
About Danley Sound Labs
Danley Sound Labs is the exclusive home of Tom Danley, one of the most innovative loudspeaker designers in the industry today and recognised worldwide as a pioneer for "outside the box" thinking in professional audio technology.
For more information please visit www.danleysoundlabs.com.